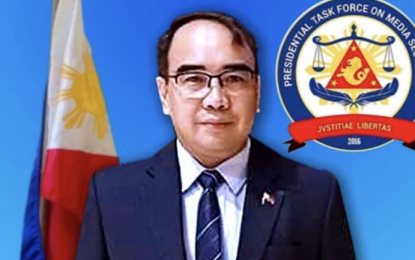 MANILA – Undersecretary Joel M. Sy Egco, executive director of the Presidential Task Force on Media Security (PTFoMS), supports the move of the Office of the Solicitor General (OSG) in urging the Supreme Court (SC) to have former Palawan governor Mario Joel Reyes rearrested for the murder of environmentalist and broadcaster Dr. Gerry Ortega.
In a statement, Egco, as head of the task force under the Office of the President charged with protecting media workers, said he "fully backs and supports" OSG's move for the lifting of the March 23, 2022 temporary restraining order (TRO) the High Court issued which prevented the Regional Trial Court (RTC) of Puerto Princesa City from enforcing the warrant of arrest against Reyes.
"The Presidential Task Force shares the sentiments of the OSG in its motion to lift the TRO which is preventing the re-arrest of the former governor. We believe that the evidence of guilt is strong in the criminal case filed against Reyes in connection with the slaying of Gerry Ortega," Egco said.
In its 62-page comment, the OSG also asked the SC to dismiss the petition for review filed by Reyes with the High Court.
"I have full trust and confidence with the OSG, as a member agency of PTFoMS, in its commitment to attain justice for this heinous act. The task force will not stand idly by until all those responsible for the killing of Ortega, including the masterminds, are put behind bars," he said.
Ortega was gunned down on Jan. 24, 2011 in Puerto Princesa City after having just finished his radio program "Ramatak".
He was considered by many an "environmental hero".
Marlon Recamata, the gunman, was arrested and pleaded guilty to murder in February 2011.
Reyes was tagged by a former bodyguard, Rodolfo Edrad, as the mastermind behind the killing of Ortega, who had criticized the former governor for the supposed destruction of the environment in the province.
Also implicated in the killing is his brother, former Coron Mayor Mario Reyes. The two are running for governor and mayor, respectively, in the May 9 elections.
Egco earlier backed the action of the OSG in initiating an investigation to find any anomaly with regard to the Court of Appeals' (CA) 2018 decision to release Reyes from detention due to the alleged insufficiency of evidence in the murder case.
In 2019, the CA reinstated the murder charges against the former Palawan governor. (PR)