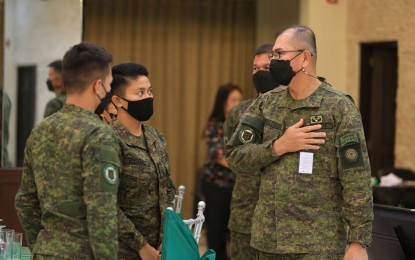 MANILA – A ranking Philippine Army (PA) official advised 198 newly-commissioned 2nd lieutenants to lead their troops well in the field during their send-off ceremonies last April 26.
"While we are continuously prioritizing the well-being of our personnel, as the Army's soldier-warriors, you are expected to lead and serve alongside your troops," PA chief-of-staff Maj. Gen. Roberto S. Capulong said in a statement Wednesday night.
Capulong, who represented PA chief Lt. Gen. Romeo Brawner Jr. in the event, also told the new officers about the principles of servant leadership as they take on their new field assignments.
"Since the historic exigencies of the Zamboanga Siege in 2013 and Marawi Siege in 2017, the Philippine Army has been exemplifying an exceptional degree of victory against the various threats to our national security. Certainly, with the timely addition of our newest second lieutenants to the Officer Corps, therefore, I am expecting that you will bolster our operational and organizational capabilities as we endeavor to perform and transform as a world-class Army in service of the Filipino people," he added.
A total of 190 new second lieutenants belong to Officer Candidate Course (OCC) "Nagsaniblahi" Class 55-2021 while eight others are from OCC Class 49-2017, OCC Class 53-2020, OCC Class 54-2020, and Officer Preparatory Course (OPC) Class 72-2020.
They have diverse academic and professional backgrounds ranging from education, criminology, accountancy, and psychology with some being cum laude and magna cum laude graduates, board passers, and civil service professionals. (PNA)