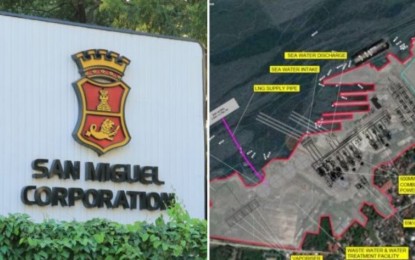 CEBU CITY – Mactan Island will soon become home to Cebu's biggest power plant after the San Miguel Corporation (SMC) signified its intention to invest in a liquefied natural gas (LNG)-powered plant in the city of Lapu-Lapu, Mayor Junard Chan on Thursday said.
"Dako nakong pasalamat nga aduna na poy laing kadaugan nga makab-ot ang atong syudad nga mao ang intensyon sa San Miguel Corporation nga mo-invest og usa sa pinakadakong power plant diri sa Cebu gamit ang LNG kon liquified natural gas (I am very thankful for another victory that our city will achieve soon as the San Miguel Corporation signified to invest in one of the largest power plants here in Cebu using LNG or liquified natural gas)," Chan said in a statement posted on his social media account.
He said SMC will invest PHP60 billion in the construction of the 600-megawatt power plant.
Chan did not mention where in Lapu-Lapu City the power plant will be built but he posted a proposed site development plan for the plant.
According to the E-Connect Energy website, transforming gas into electric power is made possible through the thermodynamic process of converting the chemical energy stored in the natural gas to thermal energy through mechanical energy to electrical energy.
Chan said SMC's entry into the power sector in Lapu-Lapu City where it intends to pour its investment for its first-ever LNG-propelled power plant, is also expected to help solve electric power supply woes which are not only experienced in Mactan Island but the entire Cebu province.
Chan said it will give jobs to the residents of Mactan Island.
"Dili na usab makasinati puhon ang mga Oponganon og problema sa kuryente lakip na ang silinganang mga dakbayan (Oponganons will no longer experience power problems, including in neighboring cities)," he said.
Oponganons refer to the residents of Mactan Island.
Chan said the city government's effort to tap investors is bearing fruit now that the SMC, the country's largest and most diversified conglomerates, showed interest in investing in a business venture in the city.
"Nagpasabot lang kini nga ang atong administrasyon karon duolonon gayud sa mga investors o dagkong mga mamuhonan kay dako ang ilang pagsalig sa atong pagdumala ug pagpangga sa mga katawhang Oponganon (It simply means that our current administration is really close to investors or big investors because they have a lot of confidence in our management and care for the Oponganon people)," he said.
Chan said more big businessmen informed him of their intention to invest and contribute to the economic growth in Lapu-Lapu City.
Lapu-Lapu City, including the island villages of Olango Group of Islands and the municipality of Cordova, is under the distribution franchise area of Mactan Electric Company.
It sourced its electric power distributed to the households and its industrial clients like the Mactan-Cebu International Airport and the Mactan Export Processing Zone from the Kepco-SPC in Naga City in southern Cebu. (PNA)