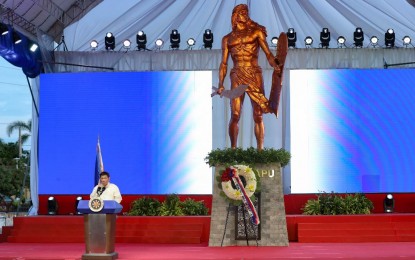 MANILA – President Rodrigo R. Duterte is hopeful that Muslims and Christians would set aside animosities and work together for peace.
In a speech during the 501st anniversary of the Victory of Mactan in Lapu-Lapu City, Cebu on Wednesday night, Duterte called of Muslims to be less resentful of Christians who tried to steal glances at them.
"Kayong mga Muslim kasi 'pag tinitignan kayo para ka na 'yung iniinsulto ka o masama kaagad ang reaction ninyo (You Muslims seem insulted or react negatively when people look at you)," he said.
He, however, acknowledged that they let down their guards after people greeted them with "Assalamu alaikum", a traditional greeting among Muslims.
Duterte also urged Christians to be amicable with Muslims, noting that people of different faiths must not be viewed as different from them.
"Kamo pung mga Kristiyanos try to, you know, make friends kay ang mga – tawo ra gud na, it's just 'yung religion nila. Wala na tayong away ngayon sa relihiyon whether it's Allah or God the Father, it's still the same for all of us (And you Christians should try to, you know, make friends because they are humans too, it's just that their religion is different. We should not have fights over religion whether it's Allah or God the Father, it's still the same for all of us)," he added.
Duterte said he wanted to leave a "legacy" of making strides to get the two faiths to be more united.
"So try to mix. With the hope – ako ba, ang akong (my) prayer is that someday we'd be able to unite the country minus…I don't know if it's still there, but 'yung (the) hatred ng (of the) Moro…" he added.
During the inauguration of the Cebu-Cordova Link Expressway (CCLEX) project, Duterte reiterated his appeal for Muslims and Christians to be more accepting of each other.
"I'd like to tell everybody including the Muslims — you know, my mother is a part Maranao…do not take offense by just being with a Christian and sometimes being you know 'yung (those) glances na ano, eh huwag ninyong…(do not take offense)," he said.
He acknowledged that some Muslims might be upset over how there are now Christians in the country, but encouraged them to look past their differences.
"You have to embrace the Christians there because whether you like it or not, nandiyan na 'yan eh (they live there). At saka tayo na mga Kristiyanos, eh wala na tayo (And you Christians as well). This is the only planet that we have," he added. (PNA)