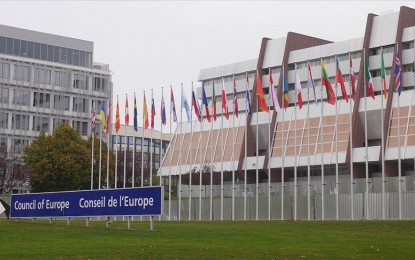 PARIS, France – The Parliamentary Assembly of the Council of Europe (PACE) called Thursday on the council's 46 member states to urgently set up an international criminal tribunal on the principle of universal jurisdiction to bring Russian perpetrators of war crimes against Ukraine to justice.
The assembly unanimously adopted a resolution at the spring session in Strasbourg, France to ensure accountability for serious violations of international humanitarian law by Russia in Ukraine.
The resolution said it is appalled by reports of the use of rape and torture as weapons of war and President Vladimir Putin's felicitation of the alleged mastermind of the civilian atrocities in the city Bucha, which "cynically encourages Russian troops to continue committing similar actions."
It urged the international community to send a clear message that the political and military leadership of the Russian Federation -- responsible for launching the war, carrying out war crimes and possible genocide -- will be held to account.
The assembly appealed to member states to make use of the principle of universal jurisdiction to investigate and prosecute such crimes committed outside its territory.
According to the resolution, the tribunal's mandate should be to "investigate and prosecute the crime of aggression" as defined by international law "allegedly committed by the political and military leadership of the Russian Federation," a statement from PACE said.
The tribunal should also "have the power to issue international arrest warrants and not be limited by State immunity," it noted.
The council expelled Russia in March for seriously violating human rights, the rule of law, and fundamental freedoms as a result of Moscow's aggression against Ukraine. (Anadolu)