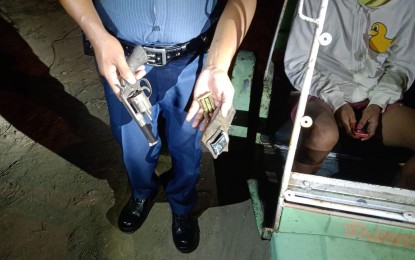 MANILA – A total of 2,973 people have been arrested for violating the election gun ban, the Philippine National Police (PNP) said on Tuesday.
In a statement, the PNP said 2,890 of those apprehended were civilians, 49 security guards, 17 police officers, and 17 military personnel.
It added that a total of 2,850 police operations yielded 2,264 firearms, 11,985 pieces of ammunition, and 1,086 deadly weapons.
Citing its latest data, the PNP said the top five regions with the most number of arrested violators are the National Capital Region (NCR) with 1,114, followed by Calabarzon (329), Central Visayas (313), Central Luzon (273), and Western Visayas (183).
Commission on Elections (Comelec) Resolution 10728 states that bearing, carrying, or transporting firearms or deadly weapons are prohibited outside of the residence and in all public places from January 9 until June 8.
Exempted from the ban are law enforcers but they should have authorization from the Comelec and wear an agency-prescribed uniform while on official duty during the election period.
Violators face imprisonment of not less than one year but not more than six years and shall not be subject to probation.
They also face disqualification from holding public office, deprivation of the right of suffrage, and cancellation or perpetual disqualification from securing a gun license.
In a TV interview on Monday, PNP spokesperson Col. Jean Fajardo said there are a total of 52 election-related violence reported ahead of the May 9, 2022 elections.
Fajardo noted that of the said number, 28 have already been confirmed as being not related to the polls, while the remaining 14 are still undergoing investigation.
"As of May 1, nakapagtala na po tayo ng 52 election-related incidents. Out of the 52 election-related incidents, 28 po doon ang validated non-election-related incidents, while 14 po ang under investigation and suspected (As of May 1, we were able to record 52-election-related incidents. Out of the 52-election related incidents, 28 are validated as non-election incidents, while the remaining 14 are under investigation and suspected)," she said.
Fajardo said that based on the report they received, 10 can be counted as election-related.
She identified the areas where the incidents occurred -- in Ilocos Region where there were four incidents, three from Zamboanga, as Central Luzon, Northern Mindanao, and Cordillera recorded one each.
She did not elaborate further.
The Comelec had placed 104 municipalities and 14 cities nationwide under the "red category," which is being adjudged as the highest alert level for possible election-related violence, mainly due to the possible and recorded presence of armed groups and intense political rivalry. There are also 10 areas under Comelec control due to possible election-related violence.
There are 16,820 PNP personnel dispatched for election duties and an additional 41,965 are deployed in the 5,531 Comelec-supervised checkpoints.
Two mobile force units in every province are also on standby while more police units are dispatched in 104 municipalities and 14 cities identified as hotspots. (PNA)