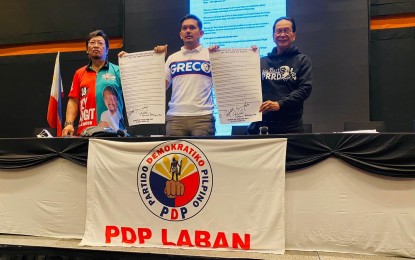 MANILA — At least three senatorial candidates of the ruling party, the Partido Demokratiko Pilipino-Lakas ng Bayan (PDP-Laban), have signed a manifesto on the continuation of President Rodrigo Duterte's anti-narcotics drive, if they win the May 9 elections.
The manifesto of support was signed Tuesday during the joint press conference of former chief presidential legal counsel Salvador Panelo, former Presidential Anti-Corruption Commission chairperson Greco Belgica, and veteran journalist Rey Langit.
The three senatorial candidates renewed their commitment to continue Duterte's drug war under the next administration, in case they get elected to the Senate.
Under the manifesto, the PDP-Laban senatorial bets emphasized the "incessant" need to "rid our homes, our communities, and our society of criminality caused largely by the proliferation of illegal drugs."
They believed the war on narcotics trade launched by Duterte in July 2016 has become the "single most effective" deterrent against the drug menace.
"The war on drugs has been firm and steadfast in its resolve not just in ensuring a safer Philippines, but also in clearing the path for economic development and national progress to ensue," the manifesto read.
Assuring the public that they would be "very vigilant" against the possible resumption of illegal drug-related activities, Panelo, Belgica, and Langit vowed to craft measures and ensure the strict implementation of laws against illegal drugs.
They also promised to adopt a two-pronged approach to stop the drug proliferation, engage the community and stakeholders in the fight against illegal drugs, and raise public awareness on drug problems.
The three also sought to further utilize the intelligence report and information on illegal drugs as "part of (their) weaponry," as well as use technology, mass media, and social media as "contingent armory."
They also assured the public that drug dependents would be rehabilitated and drug syndicates would be held accountable.
"Our victory in this war is a triumph of our time to ensure a safe, peaceful, and drug-free Philippines now and in the generations to come. We shall rise up to the challenge. Be with us, move with us, fight with," the manifesto read.
Authorities have seized PHP88.83 billion worth of illegal drugs, including PHP76.17 billion worth of shabu, since the start of Duterte's drug war in July 2016, according to the latest Real Numbers released by the Philippine Drug Enforcement Agency over the weekend.
Around 1,111 drug dens and 19 clandestine shabu laboratories have been dismantled nationwide from July 2016 to March 2022.
The conduct of a total of 233,356 anti-drug operations has led to the arrest of 14,888 high-value targets.
Authorities have also arrested 336,796 individuals involved in illegal drugs.
A total of 24,765 out of the 42,045 villages have been declared drug-cleared as of March 2022.
About 6,575 villages remain drug-free, while the remaining 10,705 have yet to be cleared of illegal drugs. (PNA)