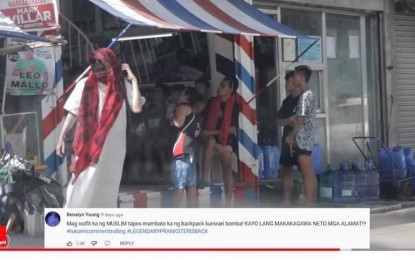 MANILA – The National Commission on Muslim Filipinos (NCMF) is now determining legal steps against a well-known social media content creator "Tukomi" who posted on Youtube an 'insensitive' video titled "Manghagis ng Itim na Bag ng Naka pang Arabo".
A day after Muslim Filipinos celebrated Eid'l Fit'r or the end of Ramadan, the NCMF Bureau of External Relations, on its Facebook page post on Tuesday night, said its lawyers are already determining the appropriate cases against the suspects.
"We have forwarded the information to the NCMF Bureau of Legal Affairs for the next steps in addressing the issue, particularly in determining the cases that may be filed against these individuals," the statement read.
The NCMF appealed to the public to refrain from spreading the video and avoid further engagements with the content creators.
Along with other pranks posted on Sunday, the last part of the video shows a man wearing Muslim traditional attire carrying a black backpack and standing outside a barbershop in an unknown location. He suddenly throws the bag inside and runs away along with frightened people.
NCMF Commissioner Yusoph Mando commented on the post, thanking a fellow Muslim who notified him about the incident.
"Titiyakin namin na maaaksyunan ng ating tanggapan itong ganitong klaseng content ng socmed (We will make sure the our office will take an action against this kind of socmed content)," Mando said.
Other netizens' comments condemn the video content.
"This is not funny. Just please respect our religion," Safeeya Salain said.
"Grabe, stereotyping ginawa niyo di ako Muslim pero respeto naman sa mga brother natin na Muslim. Mga kabataan ngayon akala nila nakakatawa yun. They don't know the consequences at limits (This is stereotyping. I am not a Muslim but have some respect to our Muslim brothers. Kids these days think that is funny)," Nevrebyl Alegria said.
The Davao City-based content creators known as the "Tukomi brothers" are well-known pranksters who get their content ideas from suggestions of their Facebook and Youtube followers.
Their Youtube channel now has 4.16 million subscribers while they have 4.3 million followers on their Facebook page. (PNA)