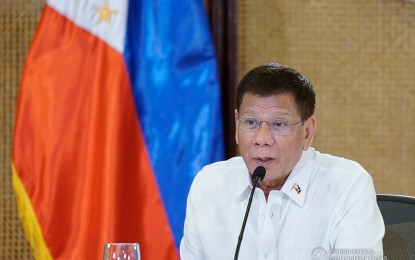 MANILA – President Rodrigo Duterte said Tuesday the Filipino people could still seek his assistance even after he steps down from office in June.
Duterte issued the statement during the campaign rally of his ruling party, the Partido Demokratiko Pilipino - Lakas ng Bayan (PDP-Laban) in Cainta, Rizal, as he promised to "remain a worker for the people" after his presidency.
He said he is willing to help Filipinos who would seek his advice even when he is already a civilian.
"Totoo. Kung 'yung may problema kayo hindi na kaya ng gobyerno, government cannot solve it, paalamin mo ako, tignan ko lang (That's true. If you have a problem and the government cannot solve it, let me know. I'll help). I will also just say to you a guarantee na pakinggan kita at tutulong ako (that I will listen to you and I will help you)," Duterte said.
The President admitted that much remains to be done despite the accomplishments made under his watch.
He also noted that the accomplishments of his administration are "a product of synergy and collaboration between the national and the local government, including the people."
"As we have these things to be grateful for, there is still much to do to ensure that everyone lives the best life they can live," he said.
Nonetheless, Duterte expressed confidence that the PDP-Laban candidates would continue his policies and programs, if they win the May 9 local and national elections.
Wooing the campaign rally attendees to vote for PDP-Laban bets, the President made an assurance that they would "tirelessly work" to give the Filipinos a comfortable life.
"That is why I ask all of you to support my fellow party mates who are present here tonight so they can continue the initiatives that my administration has started. Not only do they carry the ideals of the PDP-Laban, but also they have in their hearts the welfare of the Filipino people on top of its priorities," he said.
Duterte called on Filipino voters to give his party's candidates the same support and confidence that they have given him in the past years.
He also reminded them to choose "good" leaders who have wisdom and love for public service.
"Let us therefore unite and work together with the candidates of the PDP-Laban so we can secure a brighter future for our beloved country and for the future," Duterte said. "To my party mates, remain rooted in our best values as Filipinos and may you remain a source of light to our people, especially as we work towards the recovery of nations." (PNA)