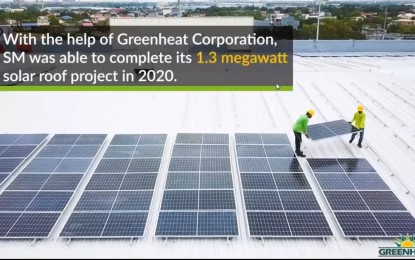 MANILA — The country's largest mall operator, SM Supermalls, has surpassed its target in utilizing renewable energy for its power needs.
At the launch of the energy efficiency and conservation information campaign of the Presidential Communications Operations Office (PCOO), Department of Energy (DOE), and SM Supermalls, SM Supermalls Corporate Compliance vice president Liza Silerio said mall chain is currently sourcing 68 percent of its power from renewable energy.
Silerio said the firm has exceeded its target of going renewable energy by 50 percent in 2022.
She added SM is the first mall in the country that introduced solar rooftop to cater to the mall's power requirement.
Silerio said eight SM malls have been energized by solar power, with 23 malls to be powered by solar rooftops in the pipeline.
"There will be in the pipeline. We still have 50 malls that we will install (with) solar roof decks," she said.
Silerio said this initiative of SM in shifting to clean energy supports the goal of the government to mitigate energy use and reduce carbon footprint. (PNA)