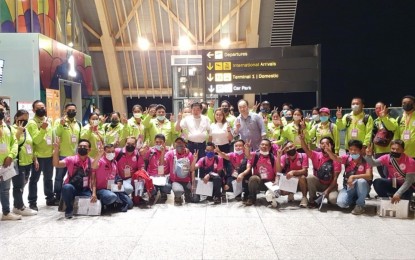 CEBU CITY – At least eight local government units (LGUs) in South Korea are participating in the "Agricultural Exchange Program" to host at least 2,000 trainees from the municipality of Cordova in Cebu this year.
This was announced on Thursday by former Korean ambassador to the Philippines Dongman Han, who expressed support for this joint program and ensured the safety of trainees following the deployment of the fourth batch to different Korean LGUs last April 30.
In 2019, the local government of Cordova, led by Mayor Mary Therese Sitoy-Cho, sealed partnership agreements with some Korean LGUs in the field of agriculture.
"This partnership gives one of a kind opportunity for our people to learn and experience South Korea for three months. This will also strengthen the bond between the Philippines and South Korea," Sitoy-Cho said in a statement.
The implementation, however, was delayed due to the Covid-19 outbreak which resulted in lockdown and strict travel restrictions. The program resumed with the recent departure of the 187 trainees.
Prior to the pandemic, the program sent three batches.
The program beneficiaries from Cordova were assigned to different LGUs in South Korea namely Jeongseon County, Sokcho City, Wonju City, Hoengseong County, Jangsu, Pyeongchang, Yeongwol County, and Buyeo County.
They are expected to learn Korea's advanced farming techniques, as well as familiarize themselves with the Korean culture.
More LGUs in Korea have signed in and will accept beneficiaries for the rest of the year.
The partnership is facilitated by Cebu Korean Association (CKA), which serves as a link between Cordova and the participating Korean cities and counties.
The beneficiaries will spend three to five months in South Korea for the immersion program, with allowance.
CKA also shoulders the beneficiaries' visa processing, medical, and airline ticket expenses.
Aside from the experience, the trainees will also be given cash allowances to take care of their personal needs and the needs of their families back home, as well.
"Mayor Sitoy Cho has exercised her excellent leadership and stewardship for the Cordova community in the last six years. She deserves (the) title of true leader for us. I strongly believe that she will continue to work sincerely for the Cordova community as well as Cebu province and the great country, the Philippines with her devotion and dedication. I admire her contribution to (deepening) our ties in many different sectors between Korea and the Philippines," Han said.
The former envoy, who is now an honorary consul of Korea in Cordova, also vowed to promote the municipality as an offshore investment hub for Korean investors. (PNA)