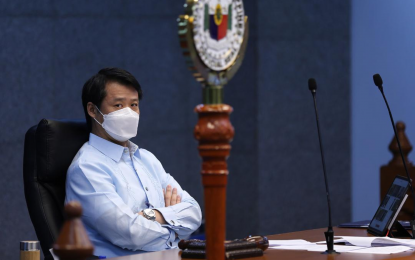 MANILA – Reelectionist Senator Sherwin Gatchalian on Thursday urged electric cooperatives (ECs) to roll out their own microgrid system to accelerate total electrification and ensure the provision of quality, reliable, and secure electricity service at reasonable rates in unserved and underserved areas.
Gatchalian, chair of the Senate Committee on Energy, authored and sponsored the upper chamber's version of Republic Act 11646 or the Microgrid Systems Act which was signed into law by President Rodrigo Duterte last January.
The law mandates the Department of Energy (DOE) to pave the way for the entry of private sector accredited as Microgrid Service Providers (MSPs) since they won't be required to obtain waivers from incumbent distribution utilities.
"Maganda ho itong batas na ito (This law is good) and I have to give credit to the four congressmen representing the ECs because they really made sure that provisions in the law will enable ECs to roll out their own micro-grid systems and take advantage of the subsidies," he said during a virtual dialogue with ECs.
Gatchalian admitted that micro-grids need a certain level of subsidies since these are quite expensive for now for the consumers.
"The electric coops can participate in rolling out of microgrids in the whole country and be allowed to receive subsidies. This is one law the electric coops can participate in. Dito sa batas na ito (In this law), we give preference to renewable energy because when we say microgrid, it has to be stand alone. Hindi siya nakakabit sa main grid (It is not attached to the main grid). So, one of the ways to decentralize it is to use renewable energy which also depends on the area," he explained.
Hindrance for investment
During the dialogue, Davao Oriental Electric Cooperative (DORECO) board member Mary Ann Gertos Santos discussed Memorandum Circular 2022-12 issued by the National Electrification Administration (NEA) that limits the possibility of doing a joint venture to only categorized Triple-A ECs.
"In our case, nasa Double A po kami (we are under Double A). We have 14 identified contacts already, all renewable. If we will be prevented from doing it because we are category Double-A, can we have some sort of consideration? Or is there a chance for that memorandum to be inclusive?" she said.
The memorandum provides that all investments of ECs sourced from internal generating fund/cash general fund, loan proceeds, and utilization of existing real properties and infrastructure facilities shall only be allowed for Green and categorized as Triple-A for three consecutive years.
Gatchalian vowed to look at the memorandum circular and determine the logic why it is only limited to Triple-A ECs.
"As a principle, utilities including ECs, should be encouraged to go into renewable and use whatever feasible arrangement as long as our member-consumer-owners will be protected," he said.
Gatchalian said electric coops are created to manage themselves and vested with powers given by their member-consumer-owners so that the national government will not be burdened with the operations of 121 electric cooperatives.
"Let the coops manage themselves," he said. (PNA)