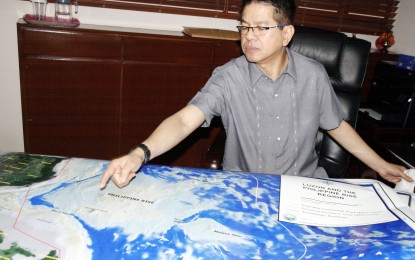 MANILA – The Philippines has nominated Filipino ocean governance expert Efren Carandang as member of the United Nations (UN) Commission on the Limits of the Continental Shelf (CLCS) for 2023 to 2028.
Carandang currently serves as the Deputy Administrator of the National Mapping and Resource Information Authority (NAMRIA).
Department of Foreign Affairs (DFA) Secretary Teodoro Locsin Jr. hailed the official as the Philippines' foremost authority on the technical intricacies of the law of the sea.
"His stellar career of 38 years is marked by tested strategic planning and management skills, expert knowledge in the use of advanced tools and technologies, and deep, extensive experience in hydrography and understanding of its ramifications in international maritime law," Locsin said in a statement posted by the DFA on Thursday.
"Should Efren be elected, he will dedicate his skills and experience to hasten the consideration of coastal states' submissions on their continental shelves. He will share his management skills to help the CLCS overcome its operational challenges and thereby improve its performance," he added.
The DFA said the election will be held in New York on June 13.
Carandang was part of the core team that developed Manila's April 2009 submission for the 13-million-hectare Philippine Rise, formerly known as the Benham Rise, which had been recognized by the UN body in 2012.
If elected, Carandang would be the first Filipino CLCS member, a milestone for the Philippines as an archipelagic state.
Locsin said the NAMRIA executive's service to the UN body would be "consistent with his advocacy for the full and consistent application of international law, including UNCLOS (UN Convention on the Law of the Sea), particularly on the determination of maritime entitlements, delineation of maritime zones, and delimitation of international maritime boundaries".
The CLCS was created under the UNCLOS, consisting of 21 experts in the fields of geology, geophysics, and hydrography.
The commission considers the submissions made by coastal states concerning the outer limits of their continental shelf extended beyond 200 nautical miles from baselines and makes recommendations based on the scientific and technical data provided by the coastal state.
Its members serve in their personal capacities and are elected for a term of five years. (PNA)