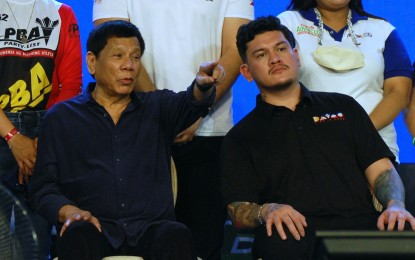 DAVAO CITY – President Rodrigo Duterte advised his youngest son, this city's Acting Mayor Sebastian "Baste" Duterte, that he must be ready to fight illegal drug activities if he wins in the May 9 elections.
The President showed up here Friday night for the Hugpong ng Pagbabago miting de avance that includes his son, who is seeking to succeed his sister and vice presidential candidate, Sara.
He said deaths may happen along the way and reiterated his stand that illegal drugs should never be tolerated.
"I have seen it. Illegal drugs cause families to be dysfunctional. How can a city grow with dysfunctional families?" the President told his son in the dialect.
"Ug mayor ka nga dili ka kabalo mupatay. Pagsugod na, pagtuon na karong gabii. Kay ang mayor nga di kabalo mupatay, may problema na. Mubalik jud ang droga (Start learning how to kill now, start tonight. A mayor who does not know how to kill will be a problem. The illegal drug trade will resurface)," the President added.
Duterte issued an executive order in March 2017 creating the Inter-agency Committee on Anti-illegal Drugs, composed of 21 government entities and headed by the Philippine Drug Enforcement Agency.
The war against illegal drugs has been criticized even by the international community but the President was adamant that it is a social menace that must be stopped.
Turning more serious, the President corrected the misimpression anew that he killed lawbreakers. He admitted though that the police have his go signal to fight back if their lives are threatened.
He also brought up the incessant drive of the International Criminal Court (ICC) to put him on trial for alleged violations of human rights laws.
"Prangkahan ta mo ICC ug Human Rights, wala pa koy gipatay. Hapit na siguro. Pero pagka-mayor nako, mao na akong guidance. Go out kamong mga pulis, pangitaa ninyo mga durugista at drug lords, dakpa. Ug musukol ang imong kinabuhi delikado, then in the fulfilment of your duty, basta sa trabaho kalang makapatay, akoy muangkon (I will be frank with the ICC and human rights [advocates], I never killed anyone. Maybe, soon. But when I was mayor, that has been my guidance to cops. Go out, do it in the line of duty)," he said. (PNA)