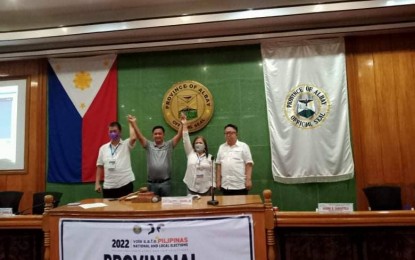 LEGAZPI CITY – The multi-awarded chief executive of this capital city of Albay is the newly elected governor of the province.
The Albay Provincial Board of Canvassers proclaimed on Tuesday evening Legazpi City Mayor Noel Rosal after defeating incumbent Governor Al Francis Bichara with a wide margin of over 230,000 votes.
Based on the official canvass results from Albay's 15 towns and three cities, Rosal garnered 469,481 votes while Bichara got 238,746.
Observers believed that Rosal's prestigious awards and notable accomplishments in this city propelled him to the gubernatorial post through a landslide win.
Rosal is a former chairman of the Bicol Regional Peace and Order Council and the current chair of the Regional Development Council (RDC).
As Legazpi City mayor for 18 years, Rosal received local, national and international awards and recognition from known award-giving bodies, including those from the United Nations, Educational, Scientific, and Cultural Organization (UNESCO), and the United States Agency for International Development (USAID) for good governance.
Other recognitions received by Legazpi during Rosal's incumbency were: Most Business-Friendly City, Gawad Kalasag, Seal of Good Housekeeping, Rice Achievers Awards, Sandugo national award, Seal of Good Governance Hall of Famer, Most Livable City, and the Wind Vane Award from the Philippine Atmospheric, Geophysical and Astronomical Services Administration (PAGASA).
On the other hand, Bichara had served as mayor and congressman before becoming the incumbent governor of Albay. He also served as ambassador to Lebanon during the Arroyo administration.
Meanwhile, in an interview on Wednesday, Rosal said his landslide victory in the recent election is a manifestation of the change that the people of Albay have called for.
"We have plenty of things to do in Albay. We need to do more important developmental programs and projects for the benefit of our constituents. We will strengthen the healthcare services to the people, particularly those residing in the island villages and other far-flung areas in our province. We will also improve the social services in order for our constituents to feel that they are also part of the government," he said.
Rosal said he will also focus on barangay development programs to give the people an opportunity to improve their livelihood, as well as support the endeavors of different sectors of society that could help further develop the entire province.
He expressed his gratitude to the Albayanos for their overwhelming support for his gubernatorial bid.
Rosal is the first governor to be elected from the province's second district in the last 30 years. (PNA)