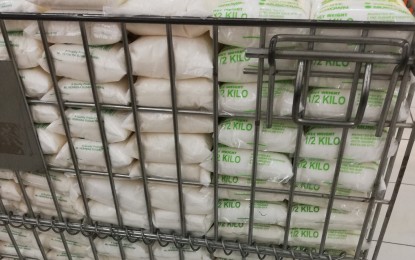 BACOLOD CITY – A sugar farmer from Negros Occidental has filed graft complaints against officials of the Sugar Regulatory Administration (SRA) led by Administrator Hermenegildo Serafica involving the order on the importation of 200,000 metric tons of refined sugar.
Enrique Tayo, chairman of the Negros Occidental Federation of Farmers Association (NOFFA), charged the SRA officials with violation of Republic Act (RA) 3019 or the Anti-Graft and Corrupt Practices Act before the Office of the Ombudsman in Quezon City on Wednesday.
A copy of the complaint was furnished to reporters on Thursday by the Negros-based Asociacion de Agricultores de la Carlota y Pontevedra Inc. (AALCPI), which also announced that they will join Tayo in the filing of the complaint.
Aside from Serafica, also included as respondents were Deputy Administrator for Regulations Guillermo Tejida III and other SRA officials who "endorsed, approved, aided and abetted in the commission of acts constituting graft and corrupt practices".
"We will also file graft and corrupt practices cases against industrial users of sugar who conspired with public officers in the commission of these unlawful acts," AALCPI general manager David Alba said in a statement.
AALCPI, an independent sugar group is the largest on Negros Island with more than 13,000 members, mostly agrarian reform beneficiaries (ARBs).
Alba earlier acted as an intervenor in a case originally filed by the NOFFA against Sugar Order (SO) No. 3 which is still pending resolution before the Regional Trial Court in Himamaylan City, Negros Occidental.
In the first week of May, the United Sugar Producers Federation (UNIFED) called out the SRA and the Department of Agriculture for proceeding with the importation of refined sugar mandated by SO 3 since there is a pending case against such action.
SO 3 allows the importation of 200,000 metric tons of refined sugar for industrial users, mainly major food and beverage manufacturers, between March 1 and May 1, but the sugar producers called it "ill-timed" as it would happen at the peak of the milling season.
In February, the courts in Sagay City and Himamaylan City issued separate preliminary injunctions on SO 3, with an order to maintain the status quo to be effective until the termination of this case unless earlier lifted.
On May 2, UNIFED obtained a copy of Serafica's Memorandum Circular 11, stating that SRA is now processing applications from Luzon, Visayas, and Mindanao traders, except Western Visayas, to import 200,000 metric tons of standard grade refined sugar and bottler's grade refined sugar.
"These industrial users will have to temper their corporate greed and instead consider the plight of millions of sugar stakeholders who will be severely affected by the entry of imported sugar," Alba said.
More than 80 percent of sugar producers in the Philippines are comprised of ARBs and small farmers, and more than 50 percent of them are in Negros Occidental, known as the country's sugar capital. (PNA)