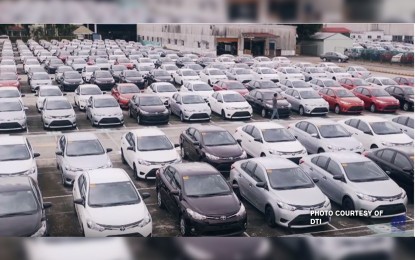 MANILA – For two straight months, sales of local vehicle assemblers recorded an over 40 percent growth as April 2022 sales rose by 40.9 percent, the Chamber of Automotive Manufacturers of the Philippines, Inc. (CAMPI) and the Truck Manufacturers Association (TMA) reported Thursday.
Vehicle sales increased to 25,149 units last month from 17,843 units in April 2021.
However, growth in April slightly slowed down from March sales increase of 43.4 percent.
CAMPI and TMA said both sales of passenger cars and commercial vehicles grew double digits.
Year-on-year growth of the passenger cars segment rose by 12.4 percent to 6,259 units in April this year from 5,570 units in 2021.
Commercial vehicle sales jumped by 53.9 percent to 18,890 units from 12,273 units in the same period.
"The April sales performance reflects the continued containment of the pandemic underpinned by the improved consumer demand for big-ticket items compared with last year," CAMPI president Rommel Gutierrez said in a statement.
Industry sales from January to April this year also increased by 13.3 percent to 99,903 units from 88,155 units in the same period last year.
Seventy-five percent of which are commercial vehicles with sales growth in that period at 24 percent, selling 75,321 units from 60,730 units in the same period in 2021.
Year-to-date passenger car sales declined by 10.4 percent to 24,582 units in the first four months of 2022 from 27,425 units in the same period of the previous year. The decline was dragged by coronavirus disease 2019 (Covid-19) restrictions in the first two months of 2022.
"The government's economic growth target of 7 to 9 percent this year, driven by the overall improvement in employment and domestic demand, will play a critical role in the economy and the industry's recovery alike," Gutierrez added. (PNA)