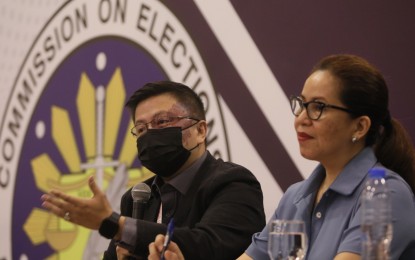 MANILA – The website of the Commission on Elections (Comelec) was attacked more than 20,000 times but thanks to the Department of Information and Communications Technology (DICT), nothing succeeded.
Acting spokesperson, Director John Rex Laudiangco, disclosed in a press conference on Saturday that many have tried to bring down the poll body's website on May 8 and 9, including the site for election results, "but all of these were denied by the DICT".
"We are proud to report that they were able to prevent and block more than 20,000 attempted attacks on our website," he said.
Citing the report of Undersecretary Maria Victoria Castro to the Comelec, Laudiangco said the DICT identified certain Internet Protocol (IP) addresses, the identifying numbers associated with a specific computer or computer network.
The DICT did not disclose yet whether the sources of the attempted attacks were foreign or local.
"Hanggang ngayon patuloy silang (DICT) nagbabantay sa atin at minomonitor po nila lahat nung nag-attempt sa atin (Until now they continue to watch over us and continue to monitor all those who attempt to sabotage us)," he said.
Through a memorandum of agreement, the DICT provides cloud hosting of the Comelec's online services such as the Registration Status Verifier, Precinct Finder, Online Voter Certification Application, and the National and Local Election Results website.
The DICT is also responsible for conducting Vulnerable Assessment and Penetration Testing on Comelec online services that ensure the security of the infrastructure used for the cloud hosting. (PNA)