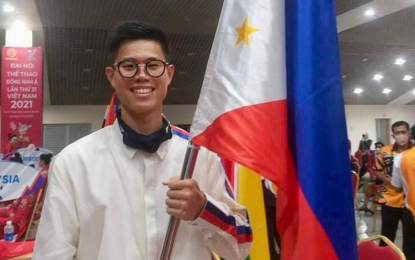 HANOI – Ernest John Obiena proved that he is the region's best pole vaulter right in his first leap, retaining his title with ease in the 31st Southeast Asian Games athletic competition at the drizzle-drenched My Dinh National Stadium on Saturday.
With his Southeast Asian rivals either failing to clear the bar several times or suffering from cramps from too much exertion, Obiena nonchalantly cleared the bar at 5.4 meters to clinch the gold right on his first attempt.
It was 40 centimeters better than the 5-meter leap of compatriot and eventual silver medalist Hocket delos Santos.
With the gold safely in the bag, Obiena then aimed at his own SEA Games mark of 5.45 meters he set in the 2019 Philippine SEA Games. Just like in his previous leap, Obiena cleared the bar for a new SEA Games record of 5.46 meters, trouble free to the loud cheers of a handful of Filipino expats and several fellow athletes and Filipino officials on the sidelines.
"I'm relieved and happy to win the gold. I came here as a favorite and finally delivered. Mission accomplished," said Obiena, the Asian record holder at 5.93 meters.
The 26-year-old Obiena, currently ranked No. 6 by World Athletics, then tried to obliterate his own Asian mark by setting the bar at 5.94, but failed thrice.
"Almost there, but masyado pa maaga 'yung volume ng training (the volume of his training is still fresh), he is not that well rested pa (yet)," said Obiena's father/coach Emerson.
Meanwhile, Kyla (23.56) and Kayla Richardson (23.87), subbing in for injured sprint queen Kristina Knott, settled for the silver and bronze medals, respectively, in the 200 meters, behind Singaporean champion Shanti Perreira (23.52 seconds).
Vietnamese Nguyen Hoai Van unseated Filipino Melvin Calano for the javelin gold with a hurl of 70.87 meters. Calano settled for the bronze with 66.86 meters.
Matching Calano's feat was Alfrence Abraza, who bagged the bronze in the men's 1500m with a time of three minutes, 56.35 seconds; Joida Gagnao, who placed third in the 5000 meters with a time of 17:36. (PR)