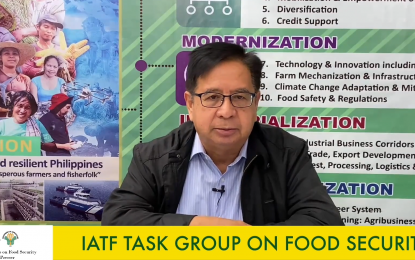 MANILA – An official of the Department of Agriculture (DA) on Tuesday urged the incoming set of government agriculture leaders to adopt the strategies during the Duterte administration, instead of starting from scratch.
In a virtual press conference, DA Undersecretary Fermin Adriano said the new administration is more than welcome to use the strategic plan that they have prepared, particularly the National Agriculture and Fisheries Modernization and Industrialization Plan (NAFMIP).
"As I said, there is no time for a learning curve to the next officials of agriculture, because we are now facing a crisis, food crisis, this is not a drawing [a hoax], this is truth, it's increasing, like the fertilizer's price, it tripled, our corn [price] has doubled, likewise, the petroleum. So there's definitely a threat in food security," he said in mixed Filipino and English.
Adriano said the NAFMIP as a strategy not only aims to secure stability despite the brewing food crisis but also promotes global competitiveness among local farmers and fishers, by raising their production in the country, with the help of the private sector.
He noted that the program may even double the income of farmers and fishers while benefiting the consumers.
"The ultimate objective is to increase farmers' productivity, that means we want the farmers and fishers to be efficient producers to be competitive, and when we say efficient, [it means] increased harvest, but they shall sell to consumers at a lower price," he added.
He noted that a lower consumer price for rice is feasible, and is being done by neighboring countries.
"Go to Thailand, Vietnam, they have higher rice production, that's why they can sell it at PHP24, PHP25 in Vietnam, and when you look at the consumer's price, it's PHP24, PHP25 only because their production cost only ranges from PHP6 to PHP8," he said in Filipino.
Agriculture Secretary William Dar earlier assured the next administration that it will be given the detailed NAFMIP, to actualize modernization targeting short to long-term development in Philippine agriculture.
The DA said this will address the significant problem of the Philippines on low productivity for several agricultural products, resulting in its low contribution to the country's economic growth.
Recently, the Philippine Statistics Authority reported a -0.3-percent contraction in the country's agriculture and fisheries for the first quarter of 2022. (PNA)