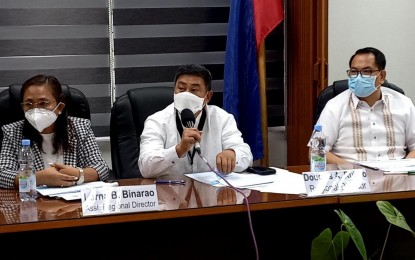 BAGUIO CITY – The Bureau of Internal Revenue (BIR) in the Cordillera Administrative Region (BIR-CAR) has collected PHP400 million more than the goal set for 2021.
In a press conference on Wednesday, BIR-CAR regional director Douglas Rufino said the region's goal was PHP5.52 billion but it was able to collect PHP5.99 billion.
Rufino said "teamwork [between the BIR and the taxpayers] was the only factor for the accomplishment. We did not have to resort to closure to make taxpayers perform their obligation."
The record provided by Rufino showed that all revenue district offices-- Abra, 6.9%; Baguio City, 6.77%; Benguet, 5.5%; Mountain Province, 7.07%; Kalinga-Apayao, 5.59%; and Ifugao, 4.13% - had positive collection data.
The collection comes from excise tax, income tax, value-added tax, percentage tax, and other taxes, with income tax logging the bulk of the collection.
Rufino said the collection from Baguio City was over 70 percent of the region's total collection. Baguio was able to collect PHP2.93 billion from its PHP2.85 billion target collection in 2021.
An excess collection was also posted in 2020 when the region logged PHP470 million more or 8.51 percent higher than its goal.
The official said that while the region posted a slump in its economy as a result of the different lockdown situation due to the coronavirus disease 2019 (Covid-19), the government's hard and soft expenditures, aside from hiring workers that have a corresponding withholding taxes, brought about the attainment of the excess collection amid the pandemic.
A value-added tax that is in purchases and services also gave the increased collection.
Rufino said that amid the threat of the spread of the virus, taxpayers were provided systems that will allow payment while preventing exposure to the virus thru online payments.
"About 80 percent of our taxpayers are availing of the electronic payment and only about 20 percent continue to manually adapt the manual payment," he said.
The official mentioned that while there was a below-target collection of excise, percentage, and other taxes, the slow opening of the tourism industry still led to tax collections, no matter how low.
BIR record shows that excise tax collection in 2021 showed a negative 10.4% shortfall; negative 19.10% for percentage tax and negative 15.95%.
The director said that they have logged the closure of establishments, especially locally owned ones that are occupying spaces in commercial buildings, though other businesses still opened albeit delayed due to the pandemic.
"Mapapansin niyo na kapag nag-ikot kayo, punuan na ulit ang mga commercial buildings natin (You will notice that when you go around, you will see commercial buildings already occupied)," Rufino said.
Rufino said that they remain confident that tax collections will continue to come in to help boost the region's economy.
For 2022, the Cordillera was given a goal of PHP7.1 billion and has so far collected PHP2.38 from January to April. (PNA)