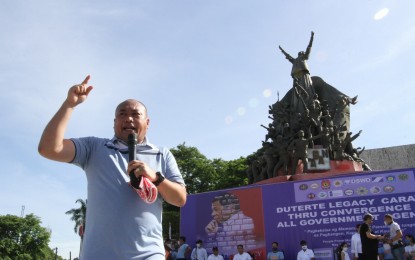 MANILA – A former cadre of the Communist Party of the Philippines-New People's Army-National Democratic Front (CPP-NPA-NDF) on Wednesday said he has "direct personal knowledge" about Kontra Daya convenor Danilo Arao's link with the communist terrorist group (CTG).
"Proof of my claims that Danilo Arao and the leaders and core operatives of Kontra Daya are CPP-NPA-NDF urban operators? And that CPP-NPA-NDF created Kontra Daya? I have direct personal knowledge about Danilo Arao's involvement with the CPP-NPA-NDF as among the local communist terrorists' urban operatives," said Jeffrey 'Ka Eric' Celiz in a statement.
Celiz, the current secretary-general of a national organization of former rebels dubbed Sentrong Alyansa Ng Mga Mamamayan Para Sa Bayan (Sambayanan), said he personally met Arao with other CPP-NPA-NDF urban operatives in a resort in Laguna during a five-day training and seminar-workshop on urban mass movement campaigns and propaganda operations, including the conduct of media operations in urban mass movement activities, in April 1999.
He said the seminar-workshop was actually a joint activity called upon by the CPP Central Committee staff organs known as CPP National Organizations Department (NOD) and National United Front Commission (NUFC) where Arao was among those who helped facilitate the event.
Similar activities, Celiz said, were also held in March 2001 in preparation for the May 2001 elections in which Arao also participated.
Celiz said it might have been better if he was invited by the ANC when it interviewed Arao on its program on Tuesday.
He said the revolutionary tactic of the CPP-NPA-NDF of using front organizations and activities as cover were "masterfully exhibited and displayed by Danilo Arao in his interview with ANC".
"How I wish that ANC could have also made due diligence in reaching out to me so that I can confront Danilo Arao, right before a public discussion and be able to tell ANC and the people, how the CPP-NPA-NDF and Danilo Arao operated in order to establish their cover and front electoral project known as Kontra Daya so that their pretensions and hypocrisy could have been exposed more distinctly in a public discourse," Celiz said.
During the interview, Arao criticized and insulted the government's official media and information group, including the Philippine News Agency, and the media network SMNI and Remate.
Arao challenged Celiz to prove his accusations.
On Monday, the PNA published an article entitled "Watchdog 'Kontra Daya' brainchild of CPP-NPA-NDF: ex-cadre" based on a statement issued by Celiz linking Kontra Daya with the CTG.
Celiz, the top nominee of Abante Sambayanan party-list, said their group has been one of the victims of prejudiced and partisan public opinion manipulation, which he called a "mind frame game and conditioning modus operandi."
Arao accused Celiz and the PNA of red tagging him and the Kontra Daya.
"Truth hurts for the CPP-NPA-NDF and their operatives and functionaries such as Danilo Arao when they are exposed to the people," Celiz said.
Celiz said there is no such thing as red-tagging, adding that this word is an "invention of the CPP-NPA-NDF" as a defense and an escape switch to deceive the people.
"Conveniently, Arao and his group Kontra Daya used the CPP-NPA-NDF masquerade of 'red tagging' claim as his defense, while doing references to their so-called dangers of 'red tagging' against their personal safety," he said.
He said Arao's pathetic use of "red tagging" claim as his defense also "blew him away when he parroted the CPP-NPA-NDF personalities."
Celiz added that truth shall liberate the people from the clutches of communist terrorism that has destroyed the country and the people, most especially the youth, "and Danilo Arao and his Kontra Daya group are part of the conspirators and enablers of the CPP-NPA-NDF".
"And the proof of it is my direct personal knowledge of the matters that I expose, and I am standing by the truth of what I declare," Celiz said.
The CPP-NPA is listed as a terrorist organization by the United States, the European Union, the United Kingdom, Australia, Canada, New Zealand, and the Philippines.
The NDF has been formally designated as a terrorist organization by the Anti-Terrorism Council on June 23, 2021, citing it as "an integral and inseparable part" of the CPP-NPA created in April 1973. (PNA)