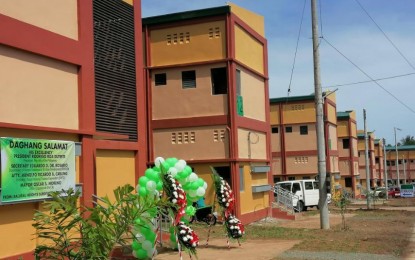 MANILA – Some 240 informal settler families (ISFs) have been relocated to medium-rise resettlement buildings in Cagayan de Oro City, according to the Department of Human Settlements and Urban Development (DHSUD), Secretary Eduardo Del Rosario on Wednesday.
Apart from residents residing in danger zone and calamity-prone areas, DSHUD said the beneficiaries also include residents who survived the wrath of Typhoon Sendong in 2011.
Del Rosario said the beneficiaries can now have a fresh start in "sustainable and affordable homes they can call their own."
The latest development in the housing sector will serve as "another testament of how the Duterte administration gives importance to its goal of providing decent, sustainable, yet affordable homes to Filipinos, especially to the underprivileged," he added.
The resettlement project is located inside the five-hectare Balubal Heights Subdivision Federation Inc. in Barangay Balubal. It is jointly undertaken by the DHSUD and Social Housing Finance Corporation (SHFC) and the local government unit.
It has a total of 40 buildings that can accommodate more than 900 ISFs.
The remaining structures are now in various stages of completion.
"We at DHSUD and SHFC are fulfilling that vision to provide housing assistance to low-income families, as well as victims of calamities. And you can see the design of this project is truly of high standards that the beneficiaries can be proud of," del Rosario said.
The DHSUD said another housing project, intended for Muslim-Christian Women's Homeowners Association Inc. comprising of the victims of the 2017 Marawi siege and other Typhoon Sendong survivors is ongoing construction.
"These projects only show that true progress can be achieved through effective convergence among the government, the private sector and citizens," he said.
"We urge everyone to continue supporting such endeavors aimed at uplifting the lives of Filipino families, particularly those from the low-income bracket, by providing them with decent, yet sustainable and affordable homes they can call their own," he added.
Del Rosario reiterated that there is no sub-standard housing unit built during the term of President Rodrigo Duterte. (PNA)