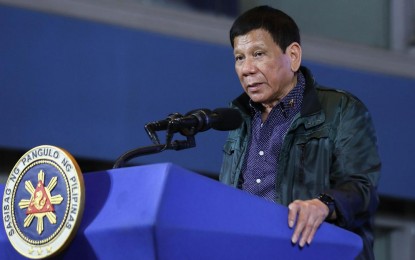 MANILA – "Quite behaved."
This was how President Rodrigo R. Duterte described himself in a speech during his attendance at the Puregold Sari-Sari Store Negosyo Convention 2022 at the World Trade Center Lobby in Pasay City.
Duterte, who usually holds weekly public addresses, has yet to hold one this week.
"Nakalagay dito (It says on this speech), Mr. President, we are live on television. Kaya takot sila magmura ako (They are probably afraid I'm going to curse). I assure you, I'm quite behaved nowadays," he said.
Duterte has long been known for cussing and swearing in speeches.
After delivering his prepared speech, he went off-script and again thanked the Filipino citizenry for making him president.
"For those who believe in me…I am on my tailend sa presidency ko. Yung tumulong sa akin, nagsuporta all these years at yung umintindi ng mga hangarin ko sa ating bayan, who brought me kayo sa pagkapresidente ko for six years, I would like to express my gratitude sa inyo at maraming salamat po (I am on the tailend of my presidency. Those who helped me, supported me all these years and those who understood my aspirations for the nation, who brought me to the presidency for six years, I would like to express my gratitude to you and thank you very much)," he said.
This is not the first time he thanked the citizenry for electing him as president. He also did so during the groundbreaking ceremony of the Pampanga Provincial Hospital in Clark, Pampanga on May 1.
After casting his vote in Davao City during the May 9 polls, he also thanked Davaoeños for his three decades in public service that started as a vice mayor.
Duterte, who first became a local government official when the late President Corazon Aquino appointed him as vice mayor of the city, vowed to continue helping the people when he returns to civilian life.
He also said he will continue his crusade against illegal drugs by reverting to his previous habit of roaming the streets on his motorcycle.
Duterte previously roamed the streets of Davao City to look for criminals during his term as mayor. (PNA)