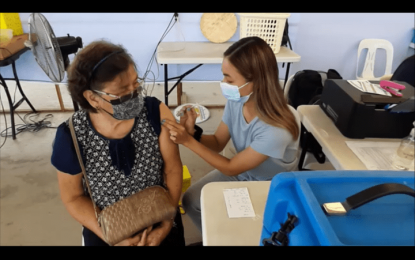 SAMAL, Bataan – Senior citizens in this province on Friday started receiving their second booster dose or the fourth shot of vaccine against the coronavirus disease 2019 (Covid-19).
In this town where vaccination took place at a big covered court adjacent to the public market, those aged 60 and above were only required to present their inoculation card to show that they were vaccinated with the first booster shot not less than three months ago.
Mario Parapara, 78, and his wife Lilia, 76, of Barangay Lalawigan here, were among the first to register and got the fourth dose with the Pfizer vaccine brand.
"Second booster na. Okay naman, wala namang problema. Nakakatulong at saka recommended yan ng Department of Health (DOH) at Food and Drugs Administration (This is already the second booster. It's alright and there is no problem. It helps and also it is recommended by the Department of Health and Food and Drugs Administration)," said Parapara when asked why he took the second booster dose.
The couple had their first booster shot four months ago.
Aside from senior citizens, the inoculation site also attended to the vaccination of children five to 17 years old, and adults 18 years old and above for their first and second regular doses.
Meanwhile, the latest data gathered from the Provincial Health Office showed that 1,401,660 vaccine doses have already been administered in Bataan, including 167,360 booster doses given to the general adult population.
Of the target of 689,786 individuals, 86.48 percent or 601,525 are now fully vaccinated. Those who have received the first dose totaled 632,537. (PNA)