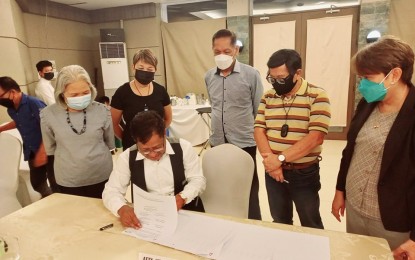 ILOILO CITY – The Regional Tripartite Wages and Productivity Board (RTWPB) in Western Visayas is urging employers to implement the new minimum wage order to take effect on June 5, even if they intend to appeal.
"That appeal will not stay the execution of the wage order. Under the law, (despite) pending appeal it (wage hike) will be effective," said Atty. Sixto T. Rodriguez Jr., Labor and Employment Regional Director and RTWPB chair, in an interview on Friday.
He said the National Wages and Productivity Commission (NWPC) has affirmed the new minimum wage order in the region on May 17 and the RTWPB got hold of the copy the following day.
The publication in a newspaper of general circulation will be from May 20 until June 4, 2022.
Wage Order No. RBVI-26 provides the minimum daily wage for non-agricultural/ industrial/commercial employing more than 10 workers will now be PHP450 from PHP395 and PHP420 from PHP310 for those employing 10 workers or less.
The minimum wage rate for those in the agricultural sector will be PHP410 from PHP315.
Meanwhile, Wage Order No. RB6-DW-04 provides for a PHP500 increase in the monthly salary of domestic workers or PHP4,500 from PHP4,000.
"We have so many labor inspectors in the region and in the province and will see to it that it will be implemented. Of course, we respect the rights of employers, if they could not afford, then we will give them time to voluntarily comply with it rather than filing a case against them and pursue labor litigations later on. We will give them time but as it is it will be effective after the publication," he said.
Rodriguez said that the order is appealable regardless of the category of the employer.
However, it may take time since it will be decided by their higher authority like the NWPC, and should employers invoke they're being on appeal for them not to implement, then it will be their workers who would suffer.
The regional director said that he has been assigned to other regions and he did not know of an establishment that has stopped operating due to wage increase.
He added that since the economy in the region is almost back to normal operations, so the status of workers should also be uplifted alongside their employers.
"I encourage them to please follow the law and give what is due to their employees," he said.
The Iloilo Business Club (IBC), in a statement on Monday, urged the regional wage board to reconsider the effects of the wage hike on the local economy as most of the micro, small, and medium enterprises (MSMEs) are yet to recover from the effects of the health pandemic. (PNA)