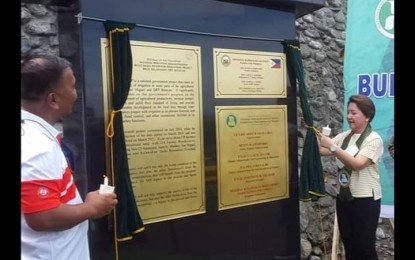 DOÑA REMEDIOS TRINIDAD, Bulacan – The National Irrigation Administration (NIA) has completed the reconstruction of the Bulo dam which was destroyed by a flash flood in 2011.
NIA Administrator Ricardo Visaya led on Friday the inauguration of the dam that will serve not only as flood control but also as a source of irrigation water for the farmlands here and in San Miguel town.
Visaya said the PHP990.37 million project commenced on July 22, 2014, while construction of the dam started in March 2018 and was completed in March this year.
Josephine Salazar, NIA regional director for Central Luzon, said the dam will provide irrigation service to 570 hectares of agricultural lands in Doña Remedios Trinidad and San Miguel towns.
Salazar said at least 500 farmers are expected to benefit as the dam will provide irrigation water to 35 hectares of rice land in Barangay Kalawakan in this town and 535 hectares in Barangay Malibay in San Miguel town.
She said Bulo Dam can likewise reduce the adverse impact of climate change and enhance water management by impounding 2.60 million cubic meters of water.
"It can also reduce floodwater from inundating major parts of San Miguel town and its adjacent municipalities whenever strong typhoons dump heavy rains in Bulacan," she added.
The Bulo Dam was originally constructed by the Department of Public Works and Highways as a flood-control project for the downstream Bulo River of San Miguel town.
However, it was destroyed by heavy rains spawned by Typhoon Pedring in September 2011. Floodwaters caused the earthen dam to break. (PNA)