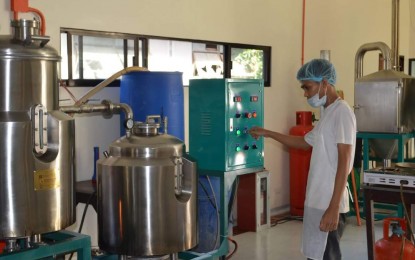 TACLOBAN CITY – The Department of Science and Technology-Region 8 (DOST-8) is strengthening the seven-year-old Eastern Visayas Food Innovation Center (EVFIC) to cope with changing and stringent market demand.
The DOST regional office here and the Eastern Visayas State University (EVSU) signed a new memorandum of agreement to come up with more innovative and diverse local food products for micro small and medium enterprises (MSMEs).
DOST-Eastern Visayas assistant regional director for technical operations Marilyn Radam said in a phone interview on Monday the new deal between their agency and one of the region's leading schools will cover three years.
"The EVFIC needs to be strengthened in terms of its capability for product development and technology transfer initiatives. The agreement also seeks to provide the technical support services of the region's processed food industry," Radam told the Philippine News Agency.
Aside from training and technical consultancies to capacitate the EVFIC, the DOST is also providing nearly PHP500,000 fund support for its operations this year.
Earlier, the DOST also provided a PHP5 million grant for the research project to develop a shelf-stable "lechon paksiw" (roasted pig stewed in vinegar) in collaboration with local producers in the city.
The EVFIC works to reprocess the leftover lechon into shelf-stable products such as "lechon paksiw de Leyte," which can provide the potential for expansion of their existing market and also seen to serve as emergency food in times of calamities in the region.
"The EVFIC started operating in 2015 with five Filipino-designed and fabricated food processing equipment. In 2017 until the present, DOST has been providing funding assistance for its operation which now amounts to nearly PHP6 million," Radam added.
The center is housed inside the EVSU main campus here. The facility is being manned and maintained by the school.
Since its opening in 2015, EVFIC has developed 1,340 product concepts, 258 food product prototypes, and is now in the process of updating 165 packages of technologies for the commercialization of interested MSMEs.
It has served a total of 954 MSMEs in terms of technology training, technical consultancies, and product development.
EVFIC is a facility that gives opportunities for local residents to develop their ideas and concepts in the field of food processing into innovative and marketable products.
The center offers a range of services that include extensive training on food development process and technical consultancy, as well as packaging and labeling design.
Among the equipment housed at EVFIC are a vacuum fryer, freeze dryer, water retort, and packaging machine, among others. (PNA)