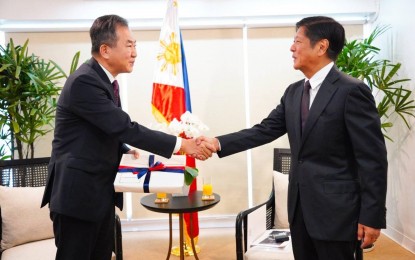 MANILA – Presumptive President Ferdinand "Bongbong" Marcos Jr. on Monday received United States Chargé d'Affaires, and the Ambassadors from Japan, South Korea, and India during separate meetings at BBM headquarters in Mandaluyong City.
First to visit Marcos was Kazuhiko Koshikawa, Japanese Ambassador to the Philippines, at around 9 a.m. followed by Ambassador Kim Inchul of South Korea who paid a courtesy call at 10 a.m.
At around 11 a.m., Indian Ambassador Shambhu S. Kumaran also paid a visit followed by US Chargé d'Affaires Heather Variava who arrived at about 12 noon.
During their private meetings, the envoys vowed to strengthen the ties in trade and diplomacy, as well as their common interests in democracy, self-determination, and economic recovery.
"We were able to discuss many of the things that how are we going to handle the next few years in terms of the relationship of our countries," Marcos told reporters in a press conference after the series of meetings.
The envoys from the four countries also assured Marcos of their willingness to provide necessary assistance to hasten the country's recovery from the ill effects of the pandemic.
"Ang lagi ko lang pinapaalala sa kanila sinasabi ko palagay ko sa pandemyang ito ang recovery ng lahat natin ay hindi kakayanin ng kahit na isang bansa, kahit na gaano kayaman kailangan (I just told them that I think the recovery from this pandemic cannot be done by one country alone), the partnership will be the one that will bring us to keep the global economy at least as stable as possible," Marcos said.
"We've been having excellent progress for the past few years, and we look forward to continuing the progress that in the relevance under the new administration," the Indian Ambassador, for his part, told reporters after he met with Marcos.
Other representatives were not able to meet the media after they met with Marcos as they have to leave soon due to prior engagements.
Marcos also assured the envoys from the four countries that the Philippines has always held them in high regard as friends, allies, and partners.
Marcos won via landslide after garnering more than 31 million votes during the May 9 national polls.
Earlier, several world leaders including those from the US, China, Russia, Japan, Australia, South Korea and the European Union have congratulated Marcos on his win.
"As you know, nakakatanggap na ako ng mga (I have already received) congratulatory messages from heads of states nakausap ko na sila, ang unang nakatawag sa amin ay si (I've talked to them, the first was) US President Joe Biden, and Chinese President Xi," Marcos noted.
"Also, Japanese Prime Minister Kishida, I even spoke with the outgoing Prime Minister of Australia, PM Morrison who had just gone through an election. So, marami na talagang nangyayari (many are happening now), we're already being recognized," he added.
"This new administration is being recognized mukha namang wala ng problema sa (there seems to be no problem with) recognition. Maybe the comfortable margin that we enjoy during the election has a part to play with that," Marcos stressed.
Previously, various world leaders have also commended the peaceful and orderly conduct of elections in the country. (PR)