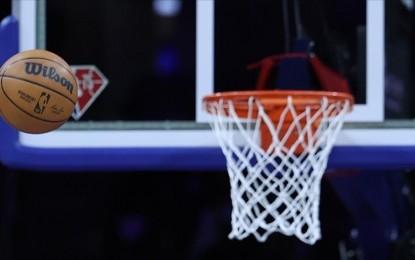 ANKARA – The Dallas Mavericks avoided elimination on Tuesday with a 119-109 win against the Golden State Warriors in Game 4 of the NBA Western Conference finals.
Ahead of the game, the Mavericks and Warriors observed a moment of silence for the victims and families of the tragic shooting at a Texas elementary school that killed at least 18 children.
"I'm fed up. I've had enough. We're going to play the game tonight. But I want every person here, every person listening to this, to think about your own child or grandchild, mother or father, sister, brother. How would you feel if this happened to you today?" said Warriors coach Steve Kerr before the match started.
Luka Doncic led his team to victory with 30 points and 14 rebounds, while Dorian Finney-Smith contributed 23 points at the American Airlines Center in Dallas.
"Just got to finish the game. A win is a win," said Doncic, who played with 10-of-26 shooting.
Curry, who was the most productive of the Warriors with 20 points, said: "It was almost like an ego win (for Dallas). You come out and really have nothing to lose. So that confidence started early and we really didn't do nothing to slow it down, and then that's when the avalanche starts. You tip your hat to them."
Dallas carried their final hopes to the next game at the Chase Center in San Francisco on Thursday, but no NBA team has ever come back from a 3-0 deficit to win a series.
NBA unveils 2021-22 Kia All-NBA 1st Team
The NBA on Wednesday announced the 2021-22 Kia All-NBA First Team squad.
Milwaukee Bucks forward Giannis Antetokounmpo, along with Mavericks guard Doncic, Denver Nuggets center Nikola Jokic, Phoenix Suns guard Devin Booker and Boston Celtics forward Jayson Tatum were the first five players selected by the voters.
Antetokounmpo earned 500 points in total to become the only player to get voted for by all ballots in what was his fourth consecutive selection to the First Team and sixth All-NBA Team honor overall. Doncic and Jokic were selected for their third time to the All-NBA First Team, with 476 points each, while Booker and Tatum made their debut on the All-NBA Team, with 460 points and 390 points, respectively.
This season's Kia All-NBA First Team is made up entirely of players aged 27 or younger for the first time in 67 years, with the selection of Antetokounmpo (27 years old), Doncic (23), Jokic (27), Booker (25), and Tatum (24).
Philadelphia 76ers center Joel Embiid got 414 points, Memphis Grizzlies guard Ja Morant 301 points, Brooklyn Nets forward Kevin Durant 276 points, Golden State Warriors guard Stephen Curry 274 points, and Chicago Bulls forward DeMar DeRozan 184 points, making their way to the 2021-22 Kia All-NBA Second Team.
The 2021-22 Kia All-NBA Third Team squad consists of Minnesota Timberwolves center Karl-Anthony Towns with 174 points, Los Angeles Lakers forward LeBron James with 169 points, Suns guard Chris Paul with 114 points, Atlanta Hawks guard Trae Young with 110 points, and Toronto Raptors forward Pascal Siakam with 63 points.
All players on the team will each receive a signature Victor Solomon crystal basketball, a solid crystal ball featuring etched gold enamel seams and the first, second, or third team designation and the NBA logo laser-etched in 3D and suspended in its center.
The squads were selected by a global panel of 100 sportswriters and broadcasters. (Anadolu)