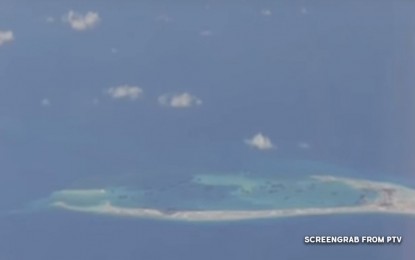 MANILA – The establishment of the bilateral consultation mechanism (BCM) on the South China Sea (SCS) is among the Duterte administration's legacies, a Filipino security and Chinese studies expert said Wednesday.
Rommel Banlaoi, president of the Philippine Association for Chinese Studies (PACS), said the BCM has allowed the two nations to deepen mutual trust and served as a platform to reduce misunderstanding on issues concerning the SCS.
"Through the BCM, the Philippines and China are now seriously involved in a series of peaceful dialogues and frank consultations to seriously promote functional cooperation, manage security risks, and decisively avoid military conflicts despite the persistent national differences in the South China Sea," he said in a virtual forum organized by the Global Governance Institution.
The BCM was created in 2016 following the state visit of President Rodrigo Roa Duterte to China, with the inaugural meeting held in 2017.
Under the same mechanism, China and the Philippines were able to establish the Working Group on Political Security, Fisheries Cooperation, and Working Group on Marine Scientific Research and Marine Environmental protection.
Banlaoi said the two nations were also able to discuss ways to expand exchanges on maritime search and rescue and joint development.
"Recent incidences, if not handled amicably by both parties as a result of unilateral action on the ground, can destroy overnight all their efforts to strengthen their bilateral ties needed for actual cooperation to occur," he said.
"It's really important to really avoid provocative unilateral actions by all parties in order to sustain the gains of bilateral maritime cooperation," he added.
He added that the "relative calm" brought about by the BCM has "contributed to the fruitful negotiations" on the Code of Conduct and the implementation of the Declaration of Conduct (DOC) on the South China Sea.
While the application of DOC is "very slow", Banlaoi said this is still a welcome development showing "things are moving between the two countries in terms of maritime cooperation".
To sustain these gains, Banlaoi said the next administration must continue to open all channels of communication and advance mutual respect, among others.
'Not a pivot'
In the same forum, he clarified that what the Duterte administration did in pursuing friendlier relations with Beijing was not a "pivot" to the country.
He explained that China, in the first place, was not the central point where Philippine foreign relations swing around.
Economically, Manila has "greater cooperation" with Japan and South Korea than China. It also has much closer defense and security ties with the United States and a growing partnership with Australia, Japan, and South Korea, he added.
"The Philippines also explored strategic cooperation with India, Russia, Israel, France, Germany, the United Kingdom, and the like, so there was no pivot. Duterte was diversifying his foreign policy strategy in order to promote independent foreign policy," he said.
Still, Banlaoi said Manila's friendly relations with Beijing over the past six years was "one of the innovative and pragmatic approaches to overcome difficult issues" with China, including on matters concerning the SCS. (PNA)