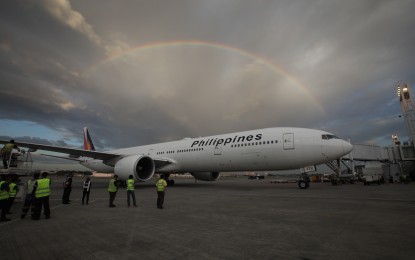 MANILA – The Philippine Airlines will start on June 9 direct flights within the Bangsamoro Autonomous Region in Muslim Mindanao (BARMM), making history as the first airline to operate the first flight within the region.
In its Facebook post on Friday, PAL said flights between Cotabato and Tawi-Tawi will be offered twice weekly, every Monday and Thursday.
Flight PR 2487 will depart Cotabato's Awang Airport at 7:30 a.m., while flight PR 2488 will depart Tawi-Tawi's Sanga-Sanga Airport at 9:40 a.m.
"We are honored to make history by operating the first flight within the new Bangsamoro region, giving us a new opportunity to serve its 4.9 million people," PAL president Stanley Ng said.
He added that PAL is looking forward to contributing to the development of tourism and commerce in the Bangsamoro through regular flights that help promote economic activity in the region and for the rest of Mindanao.
The direct flights will help travelers save time, compared to having to travel to Manila or other domestic gateway to reach their destination. These other gateways to BARMM would entail connection flights or an overnight stop, according to PAL.
"We in the Bangsamoro government, together with the Mindanao Development Authority and the concerned local government units, are happy that Philippine Airlines has announced this long-awaited service between Cotabato and Tawi-Tawi in support of the economic and tourism development of BARMM," BARMM Chief Minister Ahod Ebrahim said.
PAL is currently expanding flight services to and within Mindanao. The flag carrier has regular daily flights between Manila and Cotabato.
The Airbus A320 aircraft will be used in the pioneer BARMM routes. (PNA)