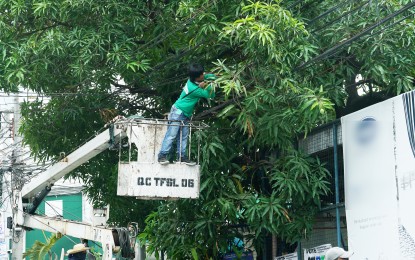 MANILA – The Department of Science and Technology (DOST) is looking at fruit-bearing trees as possible alternatives to commercial timber due to the "insignificant movement of the wood during drying," Secretary Fortunato de la Peña said on Friday.
"Old, fruit-bearing trees that abound in rural areas may help address the local wood industries' huge demand for raw materials. Many of these trees get uprooted whenever there are strong typhoons," de la Peña said in a taped report aired in the afternoon.
The DOST's Forest Products Research and Development Institute (FPRDI) studied the physical and mechanical properties of such trees as nangka, santol, durian, and marang.
Underutilized antipolo and batino trees were also studied.
"All the fruit-bearing species in the study showed low to medium volumetric shrinkage, indicating insignificant movement of the wood during drying. This is an important property when processing wood into high-end products that need high dimensional stability," he said.
The FPRDI suggested that wood from nangka, santol, and antipolo trees be used as construction materials that require moderately low strength.
The three species have the same physical and mechanical properties, de la Peña added.
Researchers likewise found that the batino could be a source of timber for medium to heavy construction due to its moderately high strength and medium volumetric shrinkage.
For light construction, he said durian and marang could be used as alternatives.
Senile nangka, santol, and durian trees, on the other hand, can be cut into timber.
Old trees that are unable to produce a substantial number of fruits are considered senile.
De la Peña noted that since trees can be used for specific purposes based on their properties, they have the potential to be used for new wood applications.
"This is why knowing their physical and mechanical properties is crucial in determining their use as possible commercial timber substitutes," he said. (PNA)