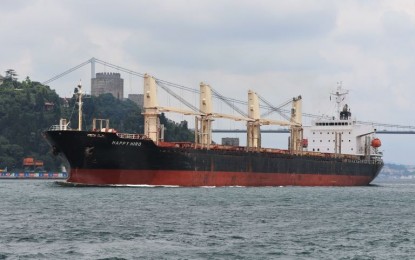 MANILA – Seven Filipino fishers are still missing after a ship collision involving their fishing boat and a cargo vessel occurred in waters off Maracanao Island in Agutaya, Palawan on Saturday.
In a televised interview on CNN Monday, Philippine Coast Guard (PCG) spokesperson Commodore Armando Balilo said search and rescue operations are ongoing and will continue until all missing individuals are accounted for.
He said the PCG is joined in the operations by the Philippine Air Force and the Philippine Navy.
"Nag-issue na rin tayo ng notice of mariners para alam ng mga transiting vessels na mayroon tayong hinahanap na mga mangingisda (We have issued a notice of mariners so that all transiting vessels are aware of our missing fishers)," Balilo said.
Based on initial investigation, he said FB JOT-18 -- the fisher's boat -- experienced engine trouble prior to the collision.
At 5:40 p.m., the fishing boat collided with MV Happy Hiro, a cargo vessel sailing under the flag of the Marshall Islands.
To date, he said the logs of the MV Happy Hiro are being checked to see if the ship's warning system was able to signal an alarm that could have helped in avoiding the incident.
Immediately after the collision on Saturday, a transiting fishing boat was able to rescue 13 out of the 20 crew members of FB JOT-18.
The rescued individuals were transferred to MV Happy Hiro -- 12 were found with minor scratches and one had a minor head wound.
Most of the distressed fishers are residents of Bantayan Island, Cebu and one is a resident of Estancia, Iloilo.
The rescued fishers were taken to Lipata Port, Culasi, Antique on Sunday and sent to the nearest hospital.
They are Donde Petiero, 38; Roderico Mata, 31; Randy Mata, 36; Renie Espinosa, 38; Mario Quezon, 24; Sammuel Ducay, 40; Rendil dela Peña, 42; Martin Flores Jr., 58; Jupiter Ibañiez, 38; Andring Pasicaran, 43; Jonel Mata, 30; Joemar Pahid, 32; and Arjay Barsaga, 36. (PNA)