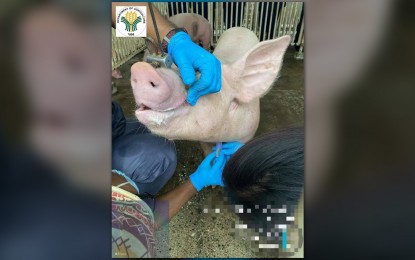 ILOILO CITY – Western Visayas has trained over 200 barangay biosecurity officers (BBOs) while more will be taught in the next few days on how to keep a close watch over possible cases of the contagious African swine fever (ASF).
"This is in connection with Bantay ASF sa Barangay, which ideally down to the barangay we have an established surveillance and monitoring system. They are trained to conduct surveillance in case of a suspect (case) and gather samples when needed," Dr. Jonic Natividad, chief of the Department of Agriculture (DA) Western Visayas Regulatory Division and focal person for the Inter-Agency Task Force for Animal Disease, said in an interview on Monday.
He said they started with around 90 trained BBOs last year and over 200 at present.
Two weeks ago, a training was held in Capiz followed by Guimaras while another training will be held in Antique on June 6.
The DA regional office is capable of testing and screening blood samples for confirmation of ASF.
Sampling is being conducted in slaughterhouses in the region and so far, the specimens were all negative for the disease, Natividad said.
Provinces in Western Visayas have their ordinances and executive orders that identified disinfection areas in strategic ports of entry.
However, the public is still advised to be vigilant in ensuring that processed pork meat and other pork-based products from ASF-affected areas could not enter the region.
Currently, only two main regions in the country, including Western Visayas, are ASF-free.
"We continue to keep watch of cases from the Mindanao area because only two main regions in the country are free from ASF, which are Western and Central Visayas while in Region IV-B, only Palawan and Mindoro have no cases," Natividad said.
He noted that since there is no movement of live hogs coming from ASF-affected areas, the reasons for a possible spread of the disease could be processed meat products, and infected footwear, and clothes of people who might have visited farms that are not observing biosecurity measures.
Meanwhile, provincial veterinarians in Western Visayas met with DA Regional Executive Director Remelyn Recoter on Monday afternoon to discuss additional measures against avian influenza as there are cases recorded in Region 2, particularly on a commercial farm in Barangay Bantug, Alicia, Isabela.
Natividad said this was attributed to the regional movement of migratory birds, adding that the region is also keeping an eye on areas that are frequented by those bird species.
Based on a report by the Department of Environment and Natural Resources (DENR), these areas are the water bodies in towns of Dumangas, Ajuy, Concepcion, and Sara in Iloilo; Sibalom in Antique; and Sipalay City in Negros Occidental.
While not included in the DENR list, a swampy area in Roxas City in Capiz is also being monitored by the agriculture department.
"As much as possible we should avoid the entry of waterfowls into our poultry farms," Natividad said.
The DA is also recommending the monthly collection of serum samples and oral swab from waterfowl and other poultry animals to ensure "freedom of the disease".
A sample will also be taken from poultry animals before they will be provided a shipping permit for transport to their target destination. (PNA)