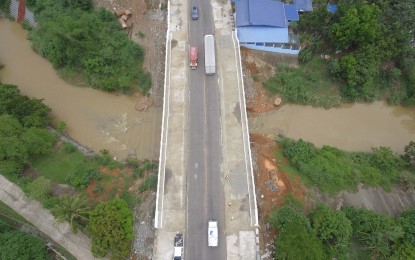 ALAMINOS CITY, Pangasinan – The widening of the Casolming Bridge here is almost complete and is expected to ease traffic during rush hour and accommodate more vehicles for agricultural purposes and tourism in the city and the western part of Pangasinan.
In a phone interview on Wednesday, staff member of the Department of Public Works and Highways - Pangasinan's 1st Engineering District, Regie Villanueva, said the construction, which began on March 3, 2021, is expected to be completed on June 25.
"The bridge's capacity will double as there is one additional lane on each side," Villanueva said.
The 46.2-meter Casolming Bridge along the Pangasinan-Zambales Road is a major road accessing the northern and western parts of the province.
In a statement issued on Wednesday, DPWH 1 (Ilocos) information officer Esperanza Tinaza said the widening project would increase the bridge's capacity by adding lanes on each side; facilitate safer access for big trucks and buses, thus improving the delivery of agricultural products to nearby cities and towns; and ease the traffic woes of tourists going to the Hundred Islands National Park here.
Tinaza said the project, costing PHP49 million, was funded under the General Appropriations Act of 2021, covering the bored piling, girder cast-in-place, stone masonry, and pre-stressed concrete cylinder pipe. (PNA)