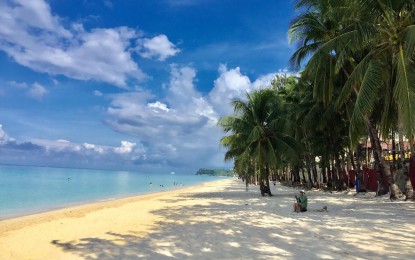 ILOILO CITY – An official of the Department of Environment and Natural Resources (DENR) in Western Visayas said the rehabilitation of Boracay island is considered as the biggest environmental project of the administration of President Rodrigo Duterte in the region.
In a press conference on Wednesday, Livino Duran, DENR regional executive director for Western Visayas, said with the mandate of the agency-led Boracay Inter-Agency Task Force (BIATF) nearing its end on June 30, there is a need to go back to the 2018-2022 Boracay Action Plan (BAP) to look into whether more should be done as far as the rehabilitation is concerned.
The action plan, which is divided into four thematic areas, costs around PHP26 billion.
Duran said almost all components of the plan were implemented but the question is whether or not they are completed.
"This should be a continuing intervention to sustain the efforts and really to make Boracay presentable and tourist-friendly," he said.
At the end of June 30, all agencies with direct mandate on the governance in Boracay will come in to continue the intervention in place, he added.
As of April 15, about 89 percent of the 339 establishments encroaching on the more than 25-meter beach easement rule were demolished and are expected to be completed by end of this year's second quarter.
All beaches, including the front and the Bolabog beaches, became Class SB-compliant except for the outfall in front of the Kingfisher area, which is populated by residential houses that are not connected to the sewer network.
Duran said they are also looking for additional sanitary landfills as preparation for the solid waste management of the island.
The rehabilitation of Wetland 2 has been completed and already turned over to the DENR. Likewise, there is an ongoing rehabilitation of Wetlands 4, 3, 6, 8, while 9 is expected to be completed by the second quarter of this year.
For infrastructure support, Duran said road construction is a continuing intervention. (PNA)