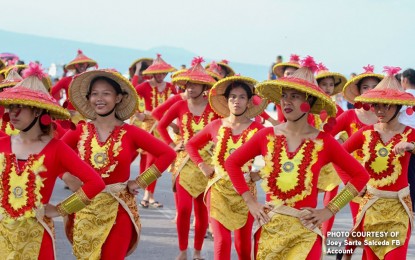 LEGAZPI CITY – After almost two years of suspension due to the coronavirus (Covid-19) pandemic, the city government here is now in the thick of preparation for the resumption of its festive and colorful Ibalong Festival.
Agapita Pacres, City Tourism Office (CTO) head, said in an interview on Thursday they met with outgoing Mayor Noel Rosal and other members of the Ibalong Executive Committee (ExeCom) last Tuesday to discuss the events.
Among the highlights of the previous Ibalong celebrations was a parade of the main characters of the Ibalong epic -- Baltog, Handyong and Bantong.
The festival, which is now in its 31st year, is set for August 10-21.
Pacres said the opening day is the most awaited due to the street dancing and float parade, opening of a weekend market and a concert at the Sawangan Park in front of the Albay Gulf.
"We will invite all the government agencies and all the barangay officials within the city to join in the opening day as their gesture of support to the festival," she said.
Pacres said she is also urging the different malls and establishments here to hold entertaining events such as an art exhibit as part of the celebration.
She noted that some of the highlights of this year's festival are the Mount Mayon Triathlon which would be participated in by professional cyclists from around the country and neighboring Asian countries, Mutya ng Ibalong pageant, and other sporting events.
Pacres said all the participants must be fully vaccinated as part of the health protocols imposed by the city government.
Rosal, in an interview, said Ibalong symbolizes the resiliency of residents in times of calamities and at the same time showcases their best talents.
"We want to take advantage of this festival in promoting the city not only in the regional level but also national and international levels to once again improve the tourism industry of our city," he said.
Rosal said most of the activities in the festival will prove that Legazpi is considered as one of the safest and most beautiful places for any kind of sporting event.
Ibalong Festival is a yearly non-religious event depicting Bicol's early beginnings based on the Ibalong Epic written by the late Professor Merito Espinas. It tells of mythical superheroes, villains, monsters, and wild animals in ancient times. (PNA)