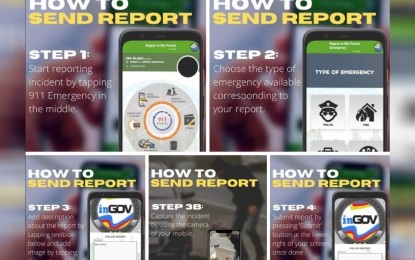 BAGUIO CITY – Baguio residents can now report any emergency to local authorities through a simple tap on a newly created mobile application any time of the day.
Aileen Refuerzo, chief information officer, said all emergencies received through the "Baguio In My Pocket" app are handled in a "smart city operation center" at the Baguio Convention Center 24 hours a day, seven days a week.
"Concerns will be received by the command center operators and dispatched to the appropriate offices after validation through a phone call to the source of the information,' said Refuerzo.
She said information about anyone reporting an incident will be treated with confidentiality.
A feedback mechanism is also provided in the procedure to make sure the information provided was acted on.
"Makaka-receive ng tawag ang informant para inform siya kung ano ang action na ginawa sa binigay na information na itinawag niya (the informant will receive a call to inform what action was done in response to the information provided)," she said.
Manned by a composite team with different expertise coming from the Baguio City Police Office, Baguio Fire Department, and disaster council, the operations center is also linked to different closed-circuit television cameras installed in different parts of the city that serves as the eye of the center.
The system requires that the informant send a photo of the incident or details of the incident to avoid prank calls.
Antonette Anaban, chief of the City Disaster Risk Reduction Management Council (CDRRMC), earlier said that the city's emergency hotline receives hoax calls that clog the system and make it difficult for legitimate concerns to get through.
The app can also be used to buy goods, stream movies, book deliveries, and conduct government transactions.
The app can be downloaded by visiting https://www.baguioinmypocket.ph. The app is already operational though its formal launch has yet to be scheduled.
The operation center was made possible through a PHP200-million fund assistance from the Office of President Rodrigo Duterte.
Mayor Benjamin Magalong earlier said the artificial intelligence system of the operations center is part of the smart city project aimed at cutting response time for anti-criminality and any form of emergencies, as well as speeding up the solving of crimes. (PNA)