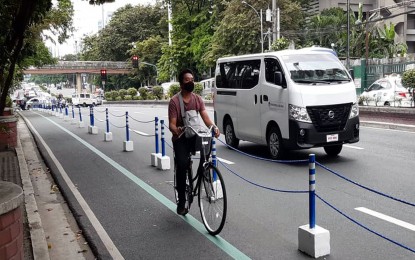 MANILA – The Quezon City government has strengthened its policies to protect the environment and combat the threat of climate change.
QC's projects aim to reduce air, land, and water pollution to make for a green and sustainable city.
Solar panels will be installed in at least 50 public schools and at Quezon City General Hospital and Medical Center in Barangay Bahay Toro, Rosario Maclang Bautista General Hospital in Batasan Hills, and Novaliches District Hospital.
The city government also established a 93-kilometer protected bike lane network that traverses major and secondary roads to promote active transport and urban mobility and help in decarbonization strategy to reduce air pollution.
Public parks and open spaces have been renovated and improved while the 5.39-kilometer Green Open Reclaimed Access (GORA) Lane, a pedestrian-oriented promenade along Dona Hemady Avenue, Scout Tobias Street, and Mother Ignacia Avenue, promotes walking and active recreational activities.
The "Trash to Cashback" program pays recyclable items with "environmental points" which may be exchanged for basic commodities and used to pay utility bills.
Right after the May 9 polls, the "Vote to Tote" program turned collected campaign tarpaulins and posters into reusable bags.
Other ordinances are Plastic Bag Ban, which prohibits single-use plastics for dine-in customers in restaurants and hotels; Green Building Ordinance; and Green Public Procurement Ordinance that mandates the inclusion of environmental criteria in public procurement.
"It is the city government's responsibility to protect its residents from the threats brought by a warming planet. Through our collective effort with stakeholders and residents, we hope to become the lead city in advancing an inclusive, ambitious, evidence-based, innovative, and transformative climate action in the Philippines," reelected QC Vice Mayor Gian Sotto said in a statement on Monday.
Sotto said their programs and initiatives are all guided by the QC Enhanced Local Climate Change Action Plan 2021-2050, which is consistent with the objectives of the Paris Agreement, an international treaty on climate change, and the United Nations' Sustainable Development Goals in order to build resilient, carbon-neutral, green, livable, and quality communities. (PNA)