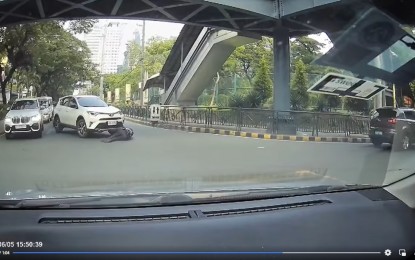 MANILA – A PHP50,000 cash reward will be given to anyone who can lead to the capture of the sports utility vehicle (SUV) driver who intentionally ran over a security guard-traffic enforcer at the corner of Julia Vargas Avenue and Saint Francis Street in Mandaluyong City on Sunday afternoon.
In a tweet on Monday, Senator-elect JV Ejercito announced that he will give the reward after watching the now-viral dashcam video.
"Putting up a P50-K reward for any info regarding this evil and idiot driver who purposely ran over a traffic enforcer. Really furious watching the video!" tweeted Ejercito, a known road safety advocate and motorcycle enthusiast.
The viral video, originally posted by Mike Angelo Ramos, showed Christian Floralde signaled vehicles, including the SUV, to stop at the intersection.
However, the SUV continued to move and bumped the enforcer who immediately fell.
As Floralde was lying on the road and to witnesses' horror, the SUV ran over him.
"What bothers me more is how anyone can just drive past this without checking on the person. Tells you a lot about what we're becoming as a society," read a comment from Vincent Magabo Espina.
"That was an act with deliberate intent of killing the victim by intentionally hitting him the second time around to fatally injure his body and that might cause him an instantaneous death," netizen Efros Cesista posted.
Ramos said in his post he shared the actual video file with other traffic enforcers so they can use it as evidence.
"Kuya (Brother) enforcer is still under observation but may mga (there are) fracture daw sa (reportedly in his) ribs na nakita (that were found). Please pray for him na sana walang (that hopefully there is no) damage 'yung (in the) internal organs," he said.
Floralde is recuperating at a Mandaluyong hospital.
In a television interview on Monday, his partner, Arceli Flores, said he has difficulty breathing due to injuries in his torso, is on oxygen support, and also sustained head wounds.
As of writing, the Mandaluyong City Police Office said it will not yet reveal the identity of the driver. (PNA)