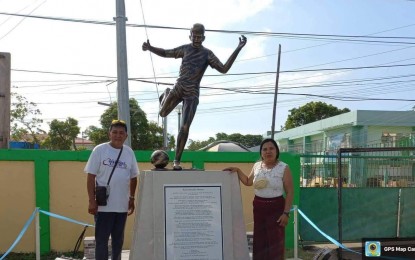 LEGAZPI CITY – The mother of Kieth Absalon, the Far Eastern University footballer who was killed in an explosion perpetrated by the New People's Army (NPA) last year, has appealed to the incoming administration of President-elect Ferdinand "Bongbong" Marcos Jr. to continue outgoing President Rodrigo Duterte's whole-of-nation approach to end the more than five-decades of terrorism.
In remembrance of Absalon, the Regional Task Force to End Local Communist Armed Conflict (RTF-ELCAC) on Monday led the unveiling of his monument at the Masbate Sports Complex in Masbate City.
Absalon and his cousin Nolven were killed when an anti-personnel mine planted by NPA rebels exploded on a road where they were biking in Barangay Anas, Masbate City on June 6, 2021.
In her message during the unveiling, Vilma Absalon, mother of Kieth, thanked the different agencies of the government for commemorating the death anniversary of her son.
"Bilang magulang ni Kieth, isa siya sa aming anak na pinalaki namin mag-asawa na maging mapagkumbaba, matibay ang loob at masipag, matiyaga lalong lalo na may takot sa Diyos. Dahil sa kahirapan ng buhay namin siya ay nagpursigi sa pag-aaral. Ang karangalan iniwan niya sa amin ay napakahalaga, hindi ko maisip na ganito pala ang kapalit (As parents of Kieth, he is one of our children who we raised to become humble, courageous, industrious, diligent and most especially, God-fearing. Because of our poverty, he pursued his studies. The honor he left is very important to us, I didn't imagine that this would be what we would get in return)," she said.
Vilma also said she remembered Kieth saying "Ma, don't worry, sisikat ako. Ito na pala ang huling habilin niya (I would become famous. This would be his last will). It is very painful to think that Kieth is gone," she added.
She thanked President Rodrigo Duterte and Presidential Communications and Operations Office Undersecretary Lorraine Marie Badoy for their courage and the inspiration they gave in fighting terrorism.
Shoulder to shoulder
In a press conference before the unveiling of the monument, Badoy read part of the inscription: "Kieth took his place and stood shoulder to shoulder with other gladiators and kicked soil to make that ball rocket to the stratosphere and to countless victories. He showed us just how beautiful it is when we are able to keep promises we make to ourselves and make our dreams happen. In that moment Kieth was transcendent. And there was much he taught us."
She described the perpetrators of the explosion that killed Absalon and his cousin as "monsters who have stolen our children from us and eaten them whole".
The Philippine National Police (PNP) gave an update on the case and said two suspects have been arrested, with the latest identified as Rolly Hermina, an NPA fighter belonging to Larangan 1, Komite ng Probinsya 4, under the command of Eddie Rosero, alias "Ka Star," operating in the second district of the province.
Col. Rayan Ador, chief of the Regional Investigation and Detective Management Division of the Police Regional Office in Bicol (PRO-5), said intensified manhunt operations are continuing to get the other suspects.
Brig. Gen. Mario Reyes, PRO-5 director, said: "Kieth's death shows us once more the true colors of the communist terrorist groups and the extent to which they are willing to go to sow terror and violence in the countryside. It is but only one of the many tactics they employ aside from their use of propaganda which they use to twist reality and truth. It is this that we in the PNP along with our counterparts in the Armed Forces of the Philippines (AFP) and other government agencies, endeavor to eradicate."
He said Absalon's monument will remind the individuals who were also victims of the atrocities committed by the communist terrorist group to fight for justice.
He also assured Bicolanos that the police are doing their best together with the AFP and other relevant sectors, to eliminate terrorism in the region.
"We must now call upon all of you once again to help us succeed in this campaign. Let us work together and stand against the CTGs to prevent another Kieth Absalon victim and to make our communities peaceful and safe for the generations to come," Reyes added.
Meanwhile, a friendly football competition was held in commemoration of Absalon's death, organized by the Southeast Luzon Masbate Regional Football Association and Federated Football Association of Masbate.
The Communist Party of the Philippines- NPA is listed as a terrorist organization by the United States, the European Union, the United Kingdom, Australia, Canada, New Zealand, and the Philippines.
The National Democratic Front has been formally designated as a terrorist organization by the Anti-Terrorism Council on June 23, 2021, citing it as "an integral and inseparable part" of the CPP-NPA created in April 1973. (PNA)