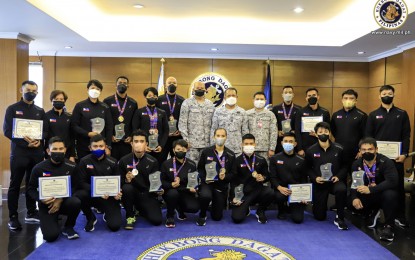 MANILA – The Philippine Navy (PN) honored 19 of its sailor-athletes who won medals in the recently-concluded 31st Southeast Asian Games (SEAG) in Hanoi, Vietnam from May 12 to 23.
The Navy athletes paid a courtesy call to PN chief Vice Admiral Adeluis Bordado at the Navy headquarters in Naval Station Jose Andrada, Roxas Boulevard, Manila Monday.
"Plaques of recognition were given to the Navy athletes who remarkably represented the organization and significantly contributed to the Philippines' medal haul in the regional multi-sport event held in Hanoi, Vietnam," PN spokesperson Commander Benjo Negranza said in a statement Monday night.
He added that the Team Navy was able to chip in a total of 19 medals in various sporting events, led by gold medalists Seaman Second Class (SN2) Ian Clark Bautista in boxing; Apprentice Seaman (ASN) Afril Bernardino and ASN Marizze Andrea Tongco in basketball; SN2 Philip Delarmino in Muay Thai; and ASN Clinton Kingsley Bautista in athletics.
Those who won silver medals include SN2 Jefferson Manatad and SN2 Jhonny Morte in men's wrestling; ASN Irish Magno in women's boxing; ASN John Russel Misal in table tennis; ASN Joanie Delgaco who also secured another two bronze medals in rowing; and ASN Aries Toledo in athletics.
Meanwhile, those who made it to the podium with their bronze medals were Petty Officer Third Class Jason Balabal who won two in men's wrestling; SN2 Grace Loberanes in women's wrestling; SN2 Josie Gabuco and SN2 Riza Pasuit in women's boxing; and SN2 Roque Abala Jr. in rowing.
"While conveying his appreciation of the honor and pride that these Navy athletes have brought to the flag and the Filipino people, Navy Chief Bordado reaffirmed the command's unwavering support to its sports program serving as a training ground that develops athletes of international caliber. He further enjoined them to carry on with excellence as among the nation's world-class athletes," Negranza said. (PNA)