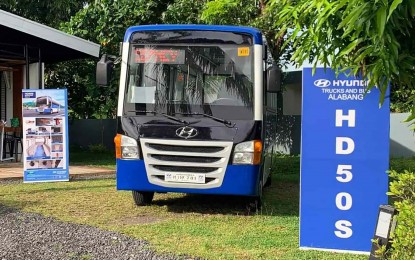 MANILA – Supporting the government's Public Utility Vehicle Modernization Program (PUVMP), Hyundai Asia Resources Inc. (HARI) and 30 local transport cooperative groups have signed a memorandum of understanding (MOU) for the rollout of more modern PUVs in Bicol.
Under the MOU, Hyundai Trucks and Buses Alabang will facilitate the acquisition of 450 modern PUVs for the transport groups, which have 150 members.
"What matters most to us is the fact that the Hyundai modern PUV is helping boost the economy of the Bicol region, and of every Philippine province, city, and municipality that it finds itself," HARI president and chief executive officer Ma. Fe Perez-Agudo said.
Prior to this deal, Hyundai partnered with Bulusan Transport Service Cooperative (BULTRASCO) in April to provide 15 units of Class 3 HD50S modern PUVs in Sorsogon.
A fleet of 23 Hyundai PUVs was also turned over to the Tabaco-Legazpi Transport Cooperative (TALETRANSCO) in Albay in 2020.
Over the past five years, HARI has turned over more than 500 modern PUVs across the country to help in making public transportation safer, more comfortable, reliable, sustainable, and more accessible to Filipinos.
HARI launched BiyaHenyo at the start of the year to help transport groups nationwide to transform their fleet to modern PUVs.
To date, the exclusive importer and distributor of Hyundai vehicles here has partnered with 80 local transport cooperatives for the rollout of more modern PUVs across the Philippines. (PNA)