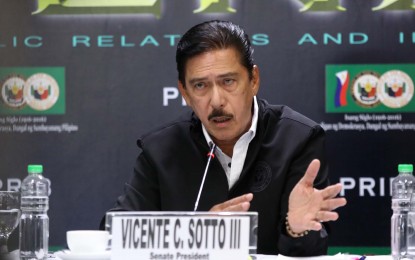 MANILA – President-elect Ferdinand "Bongbong" Marcos Jr. and outgoing Senate President Vicente Sotto III recently met to discuss the latter's proposals to reform drug users.
Sotto confirmed in a text message Tuesday night that he presented his "Drug Abuse Prevention and Correct Rehabilitation" program to his former Senate colleague who invited him to his office on May 28.
He told the Philippine News Agency through a Viber message that he can help Marcos in a "consultative" capacity.
"Consultative would be enough, I suppose. PBBM supports my proposal of giving strong support for drug abuse prevention and rehabilitation," Sotto said.
The program, Sotto said, aims to prevent illegal drug abuse through a resistance education program for fifth to seventh graders who are at vulnerable ages.
He added there will be constant seminars, programs and conferences involving parents, teachers, media, the Church, sports personalities, and the general public.
He pointed out that a correct drug rehabilitation program must have all types of approaches for each drug dependent, which include therapeutic, faith-based, and multidisciplinary activities, patterned after the United States-based 12-step program Minnesota addiction recovery.
According to the program website, the model was first used in a state mental hospital in the 1950s and focuses first on abstinence from illegal substances.
Each treatment program is uniquely designed to meet the patient's needs and address specific issues around addiction.
During the campaign period, Marcos said he would expand drug rehabilitation facilities in the provinces and vowed to go after big-time drug dealers.
Sotto, who headed the Dangerous Drugs Board from July 2008 to November 2009, is also known as the author of Republic Act (RA) 9165 or the Comprehensive Dangerous Drugs Act of 2002.
RA 9165 created the Philippine Drug Enforcement Agency, the lead agency in preventing, investigating, and combating dangerous drugs and related illegal activities. (PNA)