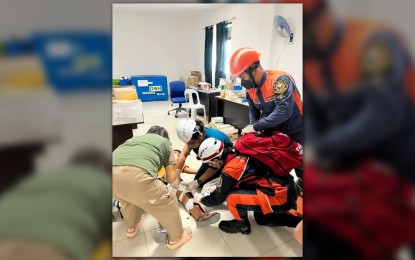 LAOAG CITY – Employees of the Ilocos Norte local government, along with other representatives from various national government agencies, are now preparing for the nationwide earthquake drill on Thursday, June 9.
Michael Pe Benito of the Ilocos Norte Provincial Resiliency Office said in an interview Wednesday that there is a "need to capacitate government personnel on emergency response," particularly now that more people are expected to visit the home province of President-elect Ferdinand "Bongbong" Marcos Jr.
As part of the preparation, various tools for vehicle extrication and equipment for search and rescue are currently being prepared in time for the earthquake drill at the Capitol tomorrow.
"Part of the scenario is a huge fire and there was a trapped victim inside the Capitol. The stairway is not passable so our search and rescue teams will be rappelling," he said, as he added that Capitol employees will be performing the "duck, cover, and hold" while others will try to move out safely to the Aurora Park, the identified evacuation site during an earthquake.
To avoid disrupting traffic in the city downtown, including those passing through Rizal Street, Pe Benito said traffic aides and the police have been instructed to close the road only when the actual drill starts.
A one-minute siren from the Capitol will signal the start of the drill at 2 p.m. on Thursday.
"Through this activity, we will see the best practices and even the gaps to further improve our preparedness measures for a strong earthquake," Pe Benito said as he urged all participants to take the drill seriously.
Previously, government workers here were also trained on what to do in case of a bomb threat.
In partnership with the Office of the Civil Defense Region 1 and the Provincial Disaster Risk Reduction Management and Resiliency Council, the participants were also trained to take blood pressure, oriented about improvised explosive devices, and taught how K-9 operations work.
After the training, each department of the Capitol was its own emergency medical kit. (PNA)