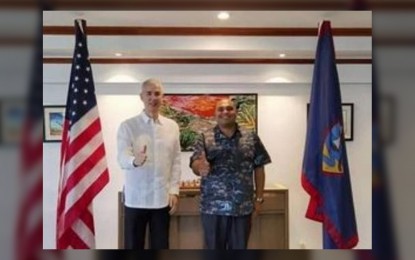 BACOLOD CITY – Negros Occidental Governor Eugenio Jose Lacson is exploring opportunities for collaboration with Guam during his four-day visit to the United States island territory this week.
On Wednesday, Lacson was set to grace the 124th Philippine Independence Day celebration of the Office of the Consulate General at the RIHGA Royal Laguna Guam Resort in Tamuning.
He also met with Guam Lieutenant Governor Joshua Franquez Tenorio on the same day, where they discussed possible sisterhood ties between Negros Occidental and Guam.
"We will be featuring Negros Occidental's local culture, legendary cuisine, and promote tourism and our investment potentials to the people of Guam and the Micronesian region," said Lacson, who is the event's guest of honor and speaker, in his request for travel authority.
The governor was welcomed by Consul General Patrick John Hilado, a Negrense himself, at the Office of the Philippine Consulate General in Agana on Tuesday.
Lacson was joined by Provincial Administrator Rayfrando Diaz II, Executive Assistant IV Charina Magallanes Tan, and Provincial Tourism Officer Cheryl Decena.
During their visit set until June 9, he said they will also meet with local government officials and members of the academe for possible future cooperation between Guam and Negros Occidental in terms of agriculture, aquaculture, tourism, and scholarships.
Lacson and his party are expected to be back in Negros Occidental on June 10. (PNA)