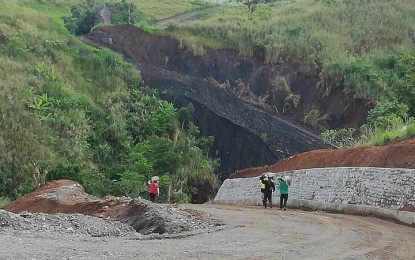 SAN JOSE DE BUENAVISTA, Antique – The ongoing road concreting project covering a two-kilometer stretch of road connecting Barangays Aningalan and Bulan-bulan in the municipality of San Remigio in Antique is welcomed by residents of the remote villages.
The PHP20-million project, already 70 percent completed, is funded under the Barangay Development Program (BDP) a flagship initiative of the National Task Force to End Local Communist Armed Conflict (NTF-ELCAC) that is implemented in villages that have been cleared from the insurgency.
Barangay Bulan-bulan resident El Terania, in an interview Wednesday, said once the project is completed, they would be spared from hauling heavy sack loads of their newly harvested agriculture products when they bring them to the town market.
The children will likewise no longer have to walk the entire four-kilometer distance to go to school since the two kilometers will already be accessible to transportation.
The funding is enough for the construction of half of the four-kilometer road, which is the distance between Barangays Aningalan and Bulan-bulan.
"The public school in our barangay is only up to Grade 6 and so the children have to continue their studies either in Aningalan Integrated Farm School in Barangay Aningalan or in Barangay Tubudan," he said.
"We have requested the national government if it could provide an additional amount to its originally PHP20 million funding in order to complete the four-kilometer distance up to our barangay," Terania added.
Joemarie Saydoquis, another resident of Bulan-bulan, said expressed his appreciation that their barangay has been identified as a priority project for the ELCAC road project as it has somehow brought peace and development to their area.
"Although the road construction is still ongoing, but then our barangay is now becoming accessible to transportation," he said.
San Remigio has been identified as one of the two priority municipalities in the province of Antique for the ELCAC projects due to the presence of the New People's Army (NPA).
Saydoquis said since the start of the road construction, their barangay had so far become peaceful.
BDP, a counter-insurgency plan, has an initial budget of PHP20 million wherein beneficiary communities can acquire or construct farm-to-market roads, school buildings, water and sanitation systems, livelihood programs, and health stations.
It aims to deliver various government programs in conflict-afflicted and geographically isolated villages that have been considered "cleared" from the influence of communist rebels. (PNA)