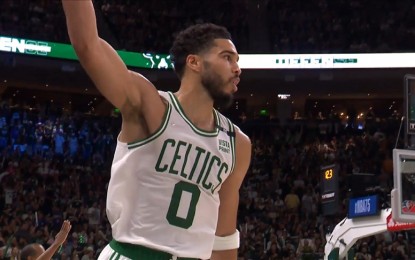 ANKARA – The Boston Celtics took a 2-1 lead against the Golden State Warriors in NBA Finals with a 116-100 victory late Wednesday.
With a better start to the game, the Celtics led the first quarter 33-22 and the first half with a score of 68-56.
The visitors bounced back to reduce the gap to four points in the third quarter.
But the Celtics dominated the fourth quarter to hold the Warriors to 11 points, third-fewest in NBA Finals in shot-clock era, sealing a 116-110 win at home.
The Celtics had control of the game with a 47-31 rebounding advantage over the Warriors.
Jaylen Brown scored 27 points and Jayson Tatum played with 26 to lead the Celtics to the victory at TD Garden in Boston.
Marcus Smart also dropped 24 points for the Celtics.
Stephen Curry added 31 points and six 3-pointers for the Warriors.
Klay Thompson also finished with 25 points.
Game 4 will be held at TD Garden in Boston on Saturday. (Anadolu)