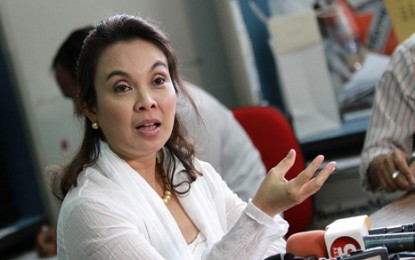 MANILA – Four-term Senator Loren Legarda urged the nation, most especially government institutions, to seriously reflect on the moral duty to change the current food system.
"In an interconnected world, we are faced again with the negative implications of the war in Ukraine. Rising food and energy prices are bringing about food shortages. The conflict will have far-reaching consequences and trigger lasting crises, especially for food security, health, and even the environment," Legarda said in a news release on Thursday.
"For our world's broken food systems, the war in Ukraine should be a wake-up call for regenerative agriculture systems," she added.
Legarda stressed the importance of providing necessary support for agriculture and fisheries, especially for small farmers to enable Filipinos to have a sustainable, resilient and regenerative food system.

"Ipinakita ng Covid-19 pandemic at ng krisis sa Ukraine kung gaano ka-vulnerable ang ating mga food supply chain, at kung paano sa isang iglap ay maaaring malagay sa alanganin ang food at nutritional safety ng milyun-milyon nating mga kababayan (The Covid-19 pandemic and the crisis in Ukraine have shown how vulnerable our food supply chains are, and how in an instant the food and nutritional safety of millions of our countrymen can be jeopardized)," Legarda said.
"Kung susuportahan natin ang ating mga magsasaka at mga mangingisda, magkakaroon tayo ng matibay na pundasyon at solusyon para sa ating problema sa food security at sustainability ng ating mga food sources (If we will support our farmers and fisherfolk, we will have solid foundation and solution for our food security problem and sustainability for our food sources)," she said.
Legarda, a backyard farmer, is a co-author of the Organic Agriculture Act under RA 10068, which provides for the establishment of the National Organic Agricultural Program and its amended version under RA 11511, which recognizes Participatory Guarantee Systems as a credible and affordable way to certify organic produce.
She also co-authored the Agri-Agra Reform Credit Act, which requires banks to allocate 25 percent of their loanable funds to the agriculture sector; and, the Rural Farm Schools Act, which provides for the establishment of Rural Farm Schools.
Legarda is also the co-author of House Bill 8385 or the Integrated Urban Agriculture Act of 2020, which seeks to promote and institutionalize urban agriculture by using idle lands and small spaces to plant and produce food in the community.

As Representative of the Lone District of Antique then, Legarda initiated the allocation of more funds for agricultural programs in the province, including the National Rice Program, the National Livestock Program, the National Corn Program, and the High Value Crops Development Program, and funding support for programs of institutions such as the Agricultural Credit Policy Council, the National Dairy Authority, and the Philippine Carabao Center, among others.

She said the world is already feeling the repercussions that the Ukraine conflict has on prices and food supply. This is confirmed by the World Food Program stating that in Ukraine, more than 3 million people are now receiving food aid. High energy costs mean high prices for fertilizers.
"For small farmers, higher prices mean less fertilizer use; therefore a smaller harvest and thus also a smaller income. They also have the climate emergency to contend with," she said. "This is yet another confirmation of the need to transition to regenerative food systems that put power back in the hands of farmers and produce using local and renewable inputs."

According to the Food and Nutrition Research Institute of the Department of Science and Technology, 1,717 metric tons of food are wasted each day. The International Rice Research Institute has also stated that PHP23 million worth of rice is wasted daily. This number is enough to feed 4.3 million individuals.
"Our people are hungry and malnourished, and yet we waste 1,717 metric tons of food. Imagine if every Filipino reduced their food waste. This would effectively improve the availability of food and help solve hunger while also reducing greenhouse gas emissions associated with food that is not consumed," Legarda said.

"I am asking our national institutions and my fellow Filipinos to seriously reflect on the moral duty to change the current food system. Let us achieve food security through stronger support for agriculture and fisheries, and the promotion of regenerative agricultural systems," she added. (PR)